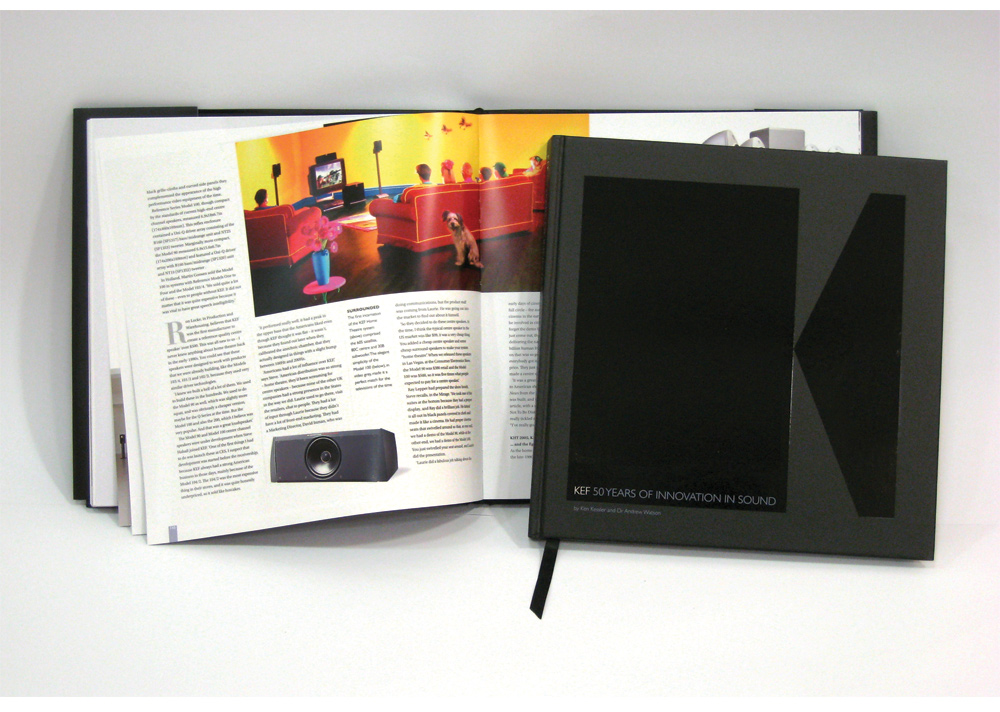 Elegant, full-color hardbound book chronicles KEF history through in-depth interviews and never before seen pictures and documents
Marlboro, N.J. – November 14, 2011 – As part of its 50th anniversary celebration, KEF, the renowned manufacturer of innovative, reference-quality loudspeakers, has introduced KEF 50 Years of Innovation in Sound, the definitive study of KEF's first half century. Co-authored by former KEF engineer Dr. Andrew Watson and acclaimed audio historian Ken Kessler, the elegant, 216-page hardbound book covers the period from KEF's founding in 1961, through the release of KEF Blade in 2011 in a story told by over 30 KEF employees and associates.
"This book is a must-have for all audio enthusiasts," said Alec Chanin, president of KEF America. "KEF has a rich history of product and technology innovation and KEF 50 Years of Innovation in Sound does a tremendous job of documenting our legendary company through the last half century."
KEF 50 Years of Innovation aggregates thousands of never-before-released printed materials, photos and company records with over 60 hours of interviews with individuals who helped shape the KEF brand. Current and former staff members contribute their recollections to recount the entire span of the company, from it's beginning in the form of Kent Engineering and Foundry, which gave the fledgling loudspeaker brand its name.
Newly-captured images of classic KEF models and series and comprehensive listings of every product produced by KEF, including every drive unit, make this the most authoritative reference work an audio enthusiast could desire.
KEF 50 Years of Innovation is available for purchase through authorized KEF retailers, including Music Direct, with a MSRP of $89.99.
For more information on KEF's 50th Anniversary celebration, please visit http://www.kef.com/thefifty/.
About KEF
For 50 years, KEF has created technology that delivers the best listening experience for people who are passionate about natural sound. Founded on October 2, 1961 by Raymond Cooke O.B.E., KEF continues to maintain its flair for unusual and controversial speaker engineering, design and material use. KEF flourished during the 1960s, and in 1970 received the first of two Queen's Awards for Export Achievement. Ten years of worldwide growth followed, solidifying KEF's reputation as one of the international leaders in speaker engineering. The Gold Peak Group acquired KEF in 1992, backing KEF's British heritage with new ideas, a new personality and new products, leveraging its deep R&D and global manufacturing capabilities, and building on the company's core strengths in acoustics, design, distribution and quality. With the celebration of its 50th anniversary, KEF will continue to build on its strong heritage to define listening experiences for the next 50 years and beyond. www.kef.com.  
About KEF America, Inc.
KEF America, a division of KEF Audio, offers loyal North American audiophiles a line of innovative speakers and components unmatched in the industry for quality and innovation. Headquartered in Marlboro, New Jersey, KEF America shares the same guiding principles as its British counterpart: ground-breaking design, exceptional sound and an unshakeable commitment to excellence. For additional information about KEF and its award-winning products and unique technology, please visit www.kef.com.