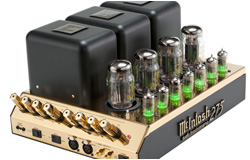 – As the Legendary MC275 Turns 50, McIntosh Celebrates with New Anniversary Edition; Pure McIntosh Power and Musicality, Plus Advanced New Features for
Today's Music Enthusiast –

Binghamton, NY, October 6, 2011 – McIntosh Laboratory, global leader in prestige quality audio for over 60 years, is celebrating the golden anniversary of its legendary MC275 Amplifier with the debut of its 50th Anniversary Limited Edition McIntosh MC275 tube power amplifier. Featuring an elegant gold-toned chassis, the specially created amp is being offered in a very limited quantity, accompanied by a commemorative book and deluxe packaging. It combines modern convenience and performance enhancements without altering the smooth, clean sound character that has made the MC275 famous for the past 50 years. With the new Limited Edition MC275, music enthusiasts and discerning consumers will be able to experience all the power, realism and emotional connection with their music made possible by an ultimate-quality McIntosh amp.
McIntosh Global Vice President for Sales & Marketing Linda Passaro noted: "In 1961, McIntosh reinvented the art and science of quality music reproduction with the debut of its original MC275 tube power amplifier. Since then, this legendary amp has continued to evolve, and set new standards for quality, musicality and reliability. Amazingly, even after 50 years, many of the very first MC275 amps are still in use and prized by their owners today. Our new Limited Edition amp celebrates the original for everything it is – and everything it has meant to generations of McIntosh customers for 'bringing their music to life.' This is truly a golden anniversary for the MC275, and years from now, music lovers who purchase a Limited Edition model will still be enjoying their investment in great sound!"
"Bring Your Music to Life" with Classic McIntosh Styling, New Features for Today's Listening Trends
With its luxurious gold-toned chassis and rock-solid craftsmanship, the Limited Edition MC275 features the classic 1961 tube circuit design of the original, recognized worldwide as the hallmark of unmatched quality, performance and reliability. The new model incorporates several advanced features suited to today's listening trends. Key enhancements include a multi-colored LED display to indicate different levels of activity, as well as a new High Speed Sentry Monitor circuit that automatically turns the amp off should any particular tube wear out. When the tube is replaced, normal operation is restored. Also, for the first time ever, the Limited Edition MC275 is equipped with Power Control input and output, so on-off operation can be controlled by a simple cable connection to any McIntosh preamp or processor. The 50th Anniversary Limited Edition McIntosh MC275 tube power amplifier will be available in December 2011 for a suggested retail price of $6,500.
About McIntosh Laboratory
Since 1949, McIntosh Laboratory's unwavering commitment to excellence, innovation and quality continues to define the state-of-the-art in high fidelity and provide discriminating consumers around the world an elevated home entertainment experience. McIntosh high-performance audio and video products are handcrafted at the company's Binghamton, New York headquarters. Its products reflect unmatched levels of performance, superlative engineering and hand craftsmanship. Built to last for decades, McIntosh components demand nothing less than an equal level of commitment to customer support and service. McIntosh Laboratory, Inc. is a D&M Holdings company. For more information visit www.mcintoshlabs.com, join us on Facebook: www.facebook.com/mcintoshlabs or follow us on Twitter by searching for McIntoshLabsInc. All product and brand names with a trademark symbol are trademarks or registered trademarks of McIntosh Laboratory, Inc.
DISCLAIMER
Statements in this news release that are not statements of historical fact include forward looking statements regarding future events or the future financial performance of the company. We wish to caution you that such statements are just predictions and that actual events or results may differ materially. Forward looking statements involve a number of risks and uncertainties surrounding competitive and industry conditions, market acceptance for the company's products, risks of litigation, technological changes, developing industry standards and other factors related to the company's businesses. The Company reserves all of its rights.