Able Planet Unveils New Gaming Headphones That Help Prevent Hearing Loss
Advanced New Headset for PC Gamers Extends Multi-Media Gaming to the Hearing Impaired

WHEAT RIDGE, Colo., Nov 24, 2008 (BUSINESS WIRE) — Addressing renewed concerns about hearing loss among young people who listen to personal headphones for just five hours a week at a high volume, Able Planet today unveiled a new high-fidelity multi-media headset for PC gamers that is safer during playback and provides the optimal gaming experience. Able Planet's new PS500MM delivers quality audio, convenient one-touch features for controlling volume and microphone functionality, and attractive styling at an affordable price.
Able Planet's patented LINX AUDIO(TM) technology embedded in the PS500MM can help to preserve hearing by allowing users to lower the volume to safer listening while still receiving a full and rich audio sound. Originally developed for those with mild to severe hearing loss, all Able Planet products are based on the company's breakthrough micro-technology.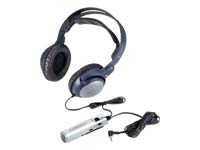 "We designed this innovative new headset specifically with PC gamers in mind," said Able Planet's chairman and CEO Kevin Semcken. "Gamers tend to spend significant periods of time playing online games and such extended play of rich multimedia sounds puts a cumulative strain on the ears this can cause hearing loss and fatigue. Our technology minimizes this risk so that users no longer have to turn up the volume just to be able to drown out background noise."  continued on Market Watch….
source: Market Watch