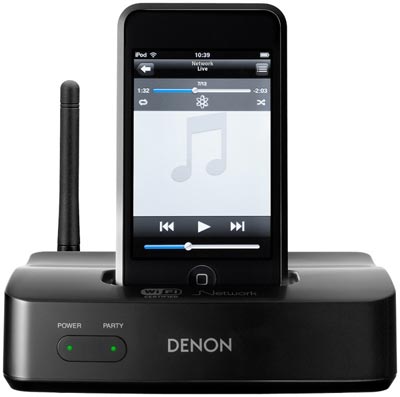 Mahwah, NJ, September 16, 2009 – Denon Electronics, one of the world's premier manufacturers of high-quality home entertainment components, today introduced the AVR-4810CI Audio/Video Receiver (SRP: $2,999), a next-generation 9.3 channel multi-zone A/V receiver that offers high-quality distribution of audio and video throughout the home*. With nine built-in amplifiers that can be configured to a host of system designs, the AVR-4810CI offers unprecedented flexibility and support for high-definition audio and video performance from all digital sources.
Along with many of today's most advanced surround sound and distribution capabilities, the AVR-4810CI includes 6 HDMI inputs/2 outputs, all certified for HDMI 1.3a. It includes support for Dolby Pro Logic IIz, featuring Front Height Effects Channels, as well as Dolby TrueHD/ DTS-HD Master audio support for decoding the multi-channel recordings featured on Blu-ray and HD-DVD discs. It also features a built-in HDCD decoder, as well as a wide variety of performance and convenience features, including Vertical Stretch (2.35:1 CinemaScope) Mode, and a Video Control Adjustments Memory by input feature. Analog Video Conversion with Scaling to 1080p/24 uses advanced Anchor Bay Technologies (ABT) video processing and scaling.
Among the AVR-4810CI's leading-edge features and capabilities is the inclusion of Audyssey DSX with front height and/or expanded width channels. This advancement allows for a dramatic enhancement of the listener's 5.1- or 7.1-channel surround experience, adding a vertical component to the horizontal soundfield and/or widening the image field to recreate a more realistic movie theater-like experience. The enhanced spatial audio effect provides added presence and depth while maintaining the integrity of the source mix and ensuring audio is always appropriate to the source material.
Advanced Whole-Home Networking
The AVR-4810CI also includes a host of 21st century networking capabilities, joining other leading-edge products in Denon's line to feature both Ethernet and Wi-Fi connectivity (Wi-Fi 802.11 b/g certified) for control and digital media steaming. In order to provide users with even more flexibility and convenience, second zone video output is available via component with onscreen display for meta-data from iPod®/XM/HD Radio/Streaming Audio, providing a second zone within a home to experience high-definition video signals, audio and meta-data from connected devices. Two discrete AM/FM tuners, one featuring HD Radio, as well as Sirius and XM readiness provide for multi-zone distribution. The AVR-4810CI also features Rhapsody and Napster streaming audio via Internet without the necessity of a connected PC. It provides audio and video processing capabilities for three independent home entertainment zones, plus connectivity and control of Apple iPods that can be streamed to any of these zones. The height of "future-readiness," the AVR-4810CI even features a special "Party Mode" multi-zone network streaming management system for use with the ASD-51N/W Network Server/Dock. Notably, thanks to its preout connections for another set of channels for Audyssey DSX, the AVR-4810CI is in actuality a 4-zone AVR with 11.3-channel capabilities.
Custom Installation-Friendly Features
In addition to built-in Wi-Fi and Ethernet, the AVR-4810CI includes a host of features geared toward custom integrators, including easy system setup and maintenance from a remote location. This allows custom integrators to diagnose and even fix a customer's problem from their office and not waste time traveling to a customer's home. Once the unit is installed, the integrator can simply log on via secure website hosted by Denon and correct or restore settings that may have accidentally changed. Additionally, it allows users to stream and listen to music stored on a Windows PC, Mac and media server products or NAS devices supporting the DLNA standard.
For total ease and accuracy of set-up, the unit features Audyssey MultEQ XT Auto Setup and Calibration, along with the ability to use the advanced Audyssey Pro installer package, which measures ideal sonic performance in up to 32 different positions. This allows installers to define the ultimate sound quality for virtually any size or shape room.
Like all Denon receivers, the AVR-4810CI includes Audyssey Dynamic Volume, a volume leveling technology that frees listeners from the disruptive changes in volume levels when broadcast material changes between television shows and commercials or even while watching a movie. Coupled with Audyssey Dynamic Volume is Audyssey Dynamic EQ, a loudness correction technology that enhances the overall entertainment experience even further. Audyssey Dynamic EQ solves the problem of deteriorating sound quality of movies and music as volume is decreased. By selecting the correct frequency response and surround volume levels moment-by-moment, Dynamic EQ lets users enjoy the full palette of original rich sound at any volume.
*A home network is required for distribution of content throughout the home.

Mahwah, NJ, September 16, 2009 – Denon Electronics, one of the world's premier manufacturers of high-quality home entertainment components, today introduced the DBP-4010UDCI Universal Blu-ray Disc Player ($1,999), a state-of-the-art source component with many of the same leading-edge technologies, breakthrough network interconnectivity and features as Denon's recently introduced revolutionary Model DVD-A1UDCI at a significantly lower price point. The Denon DBP-4010UDCI will be available in October 2009.
A Profile 2.0 Blu-ray DVD player, the DBP-4010UDCI's many innovative interactivity features include built-in BD Live and "Bonus View" functionality. In addition to its ultimate quality video, the player features DVD-Audio and SACD playback with native digital audio output via the DENON LINK® or PCM conversion with full bass management.
Unprecedented Connectivity, CI-Friendly Capabilities
For unprecedented connectivity to both a host of current-day and future entertainment enhancements, the DBP-4010UDCI's onboard Ethernet port allows for Internet connectivity, firmware updates, BD Live interactivity, IP control for third-party controllers, CI remote access and Web Browser support. AVCHD and DivxHD playback adds to its video handling capabilities. In addition to being the first BD product geared toward the custom installation marketplace to feature IP control, Web browser capabilities and remote access, the DBP-4010UDCI features an SD card reader that offers multiple interactivity opportunities for content providers to add enhanced content such as movie-trailers.
The DBP-4010UDCI features leading-edge ABT (Anchor Bay Technologies) VRS processing for the highest-resolution video available via HDMI connection, with upconversion and IP scaling to 1080p and high-definition audio decoding. Its innovative DENON LINK 4th Edition digital interface supports all digital audio transmission specifications, including SACD as well as CD and DVD-Audio. Notably, the DENON LINK interface is complemented by a new HDMI Clock Control feature – when using the HDMI interface for A/V output, the DENON LINK allows for the connected AVR, or A/V Processor to take over the Master Clock Control signals, thereby eliminating digital jitter via HDMI.
The unit's full complement of advanced decoding circuitry includes DDSC-HD, with decoding of all the latest HD audio formats from Dolby and dts. In addition, the player features Bit Stream Bypass to HDMI for Dolby Digital+, as well as TrueHD 7.1 and dts-HR, dts-HD Master Audio 7.1 digital transmission to an AVR/AVP for decoding. The 12-bit, 297MHz Analog Devices Video DACs offer unprecedented video-performance, and the unit also features Burr-Brown 24/192 PCM1796 DACs, including discrete 2-channel preamp outputs for a dynamic range of 123dB.
Denon Superior Build Quality, Ultra-Modern Aesthetic
The DBP-4010UDCI not only offers users the ultimate in advanced video and audio, it offers an elegantly styled total entertainment solution, allowing custom installers to bring their customers a new level of style and substance to their home entertainment systems. The front of the unit is distinguished by a new loader/tray section, derived from Denon's acclaimed CX Series components. The gently curved, all-Aluminum construction gives the unit a sleek, ultra-modern appearance that bespeaks the ultimate in technological prowess and elegance. Multi-layer construction with a rock solid bottom minimize vibrations and the DBP-4010UDCI's internal "block" type structure minimizes interference between the audio/video and analog/digital sections.
Denon ASD-51W networked iPod dock
Mahwah, NJ, September 16, 2009 – Denon Electronics, one of the world's premier manufacturers of high-quality home entertainment components, today announced the availability of two new Network-Enabled iPod Docks, models ASD-51W and ASD-51N, both with Apple® iPod command and control, as well as a host of new capabilities and features.
Connectivity to Rhapsody and Napster Music Services
Building on the capabilities and benefits of Denon's predecessor ASD-3N/W models, the ASD-51N and ASD-51W add exciting new features that give users an even greater level of network connectivity to many A/V components, including A/V receivers, video display products and single speaker solutions, allowing them to stream audio files, pictures, Internet radio stations and more through the connected devices*. Notably, both new devices let users stream music from Internet Radio sources, as well as provide connection to Rhapsody and Napster music services (subscription required) and other network attached storage devices. As with the ASD-3N/W, the devices recharge the iPod while in dock.
New Features Geared Toward Custom Integrators
Both new Denon Network-Enabled iPod Docks were engineered with a variety of features and capabilities designed to help professional custom integrators better serve their clients. For example, they offer IP Control (AMX/Crestron), Web Remote Control, and iPod audio streaming to new Denon networked products. In addition, a new Multi-Zone Management feature allows custom installers to quickly and easily perform a status check of all networked Denon products. Both models also feature a special "Party Mode" feature for use with new '10 series Networked Denon A/V receivers that allows users to enjoy music throughout the home played simultaneously in up to five Denon devices on the network.
Windows 7, Plus Automatic Wi-Fi Connectivity and More
In addition to having Rhapsody and Napster connectivity, the new Denon iPod docks provide Windows 7 connectivity and overall faster networking capabilities. Notably, the ASD-51W adds Wi-Fi (11b/g) connectivity and WPS compatibility (Wi-Fi protected setup). This easy solution for wireless connectivity allows users to quickly connect the ASD-51W to the wireless router and automatically start communication and authentications without having to enter any password or SSID input. Adding to their flexibility and convenience, both new products also feature Digital Coaxial Output and Last Function Memory. For additional connection flexibility, the units feature an IR (Infrared) pass-through, allowing them to act as an IR sensor for other products – even those that may be enclosed behind cabinets.
To minimize "remote control clutter," both devices connect to almost any Denon receiver using the dock control port and give users command and control of their iPod via the receiver's remote control. Whether connected to a current Denon receiver or other product, audio and video signals are sent via analog audio output and S-Video to the respective inputs on a connected device in order to view the GUI and hear the audio. The two models include a remote control and feature a screen saver and a newly designed GUI for displaying meta-data, full-color album artwork and user photos. The GUI will support English, German, French and Spanish languages for both GUI text as well as meta-data from the iPod and other streaming media.
* A home network is required to stream content.
source: engadgethd.com