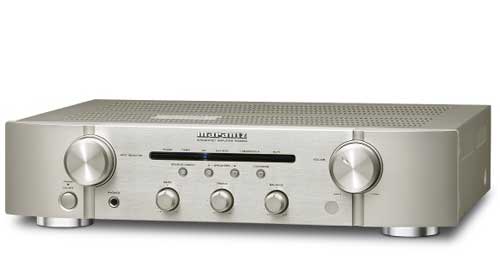 Advanced Sonic Technologies Derived from Marantz Flagship Reference Series; Special Features for Flexibility and Convenience with iPod®/iTunes® and Digital Music
Mahwah, NJ, October 17, 2011 – Marantz America, a world leader of advanced home entertainment solutions, today set a new bar for the performance/value proposition with the introduction of its PM6004 Integrated Amplifier (SRP: $599.99) and CD6004 Compact Disc Player (SRP: $499.99). Marantz engineers incorporated advanced sonic technologies from the critically-acclaimed Marantz Reference Series into both new products, guaranteeing an unprecedented level of realistic music reproduction for the price point.
Jim Ludoviconi, Brand and Product Manager for Marantz America, noted: "With our new accessibly priced PM6004 Amplifier and CD6004 CD Player, we are making it possible for more audio and music enthusiasts than ever to afford the signature Marantz music experience. Everything about these units has been engineered to provide luxurious, breathtakingly realistic music reproduction. At the same time, our engineers made sure to include all the convenience and flexibility features suited for all today's digital music listening solutions. As a company that was founded with a mission to provide the very best music listening experience possible, these two products make us very proud."
PM6004 Integrated Amplifier: Rich Musical Detail and Harmonic Balance
The PM6004 Integrated Amplifier (http://us.marantz.com/PM6004) delivers a remarkable combination of power and capability in a stylish package that matches sheer audio luxury with total user convenience. Offering all of the detail and harmonic balance Marantz is famous for; the PM6004 adds control options that ensure smooth and easy integration with today's music systems. As with Marantz' top-of-the-line Reference Series amplifiers, it features a Torroidal transformer that anchors an all-new power supply feeding a Current Feedback Amplifier. Five line inputs and two line outputs ensure connectivity with all today's musical sources. Notably, to meet the growing demand of consumers who enjoy the vinyl LP experience, it also features an all-discrete moving magnet phono stage that maximizes audio performance from turntables. The rich, pure and noise-free sound quality of the PM6004 is made possible by the use of built-in HDAM-SA2 circuitr.
CD6004 Compact Disc Player: Featuring Front-Panel USB Input for digital music!
The CD6004 Compact Disc Player (http://us.marantz.com/us/Products/CD6004) is a state-ofthe art solution for enjoying the very best musical performance from CDs, as well as iTunes music and other digital sources. The CD6004 features a front panel USB input, which allows users to enjoy all their favorite digital music tracks – a first for a Marantz unit in this price range.
The CD6004 delivers digital speed and musical clarity tempered by a fresh approach to sonic engineering from the Marantz team. Among the leading-edge audio technologies included are Hyper Dynamic Amplifier Modules (HDAM's), a Marantz proprietary technology also derived from the company's flagship Reference Series. The utilization of HDAM technology allows the CD6004 to reproduce music with an ideal balance of bass, midrange and treble for a digital listening experience that could easily be mistaken for "analog." Other features that position the CD6004 as an ideal source component for today's most advanced home entertainment system include Flasher Input, premium (wide pitch) L/R output jacks, as well as optical and coaxial digital outputs. Additional Marantz touches include a double layered bottom plate to ensure vibration free listening and a precision clock system. Adding total flexibility and expandability, the CD6004 features two iPod operation modes
About Marantz
Marantz America, LLC is committed to upholding the tradition of technological superiority initiated by founder Saul Marantz. In keeping with this emphasis on quality, Marantz audio
and video components are carried only by the nation's premier audio/video specialty retailers. Additional information is available at www.us.marantz.com and www.facebook.com/marantzamerica. Marantz America, LLC is a wholly owned subsidiary of
D&M Holdings Inc.
About D&M Holdings Inc.
D&M Holdings Inc. is a global operating company providing worldwide management and distribution platforms for premium consumer, automotive, commercial and professional audio and video businesses including Denon
®
, Marantz
®
, McIntosh
®
Laboratory, Boston Acoustics
®
,
Snell Acoustics, Escient

, Calrec Audio, Denon DJ, Allen & Heath, D&M Professional and
D&M Premium Sound Solutions. Our technologies improve the quality of any audio and
visual experience. iPod and iTunes are registered trademarks of Apple Inc. All other product
and brand names with a trademark symbol are trademarks or registered trademarks of D&M
Holdings, Inc. or its subsidiaries. For more information, visit www.dm-holdings.com.
DISCLAIMER
Statements in this news release that are not statements of historical fact include forward
looking statements regarding future events or the future financial performance of the
company. We wish to caution you that such statements are just predictions and that actual
events or results may differ materially. Forward looking statements involve a number of risks
and uncertainties surrounding competitive and industry conditions, market acceptance for the
company's products, risks of litigation, technological changes, developing industry standards
and other factors related to the company's businesses. The Company reserves all of its
rights.