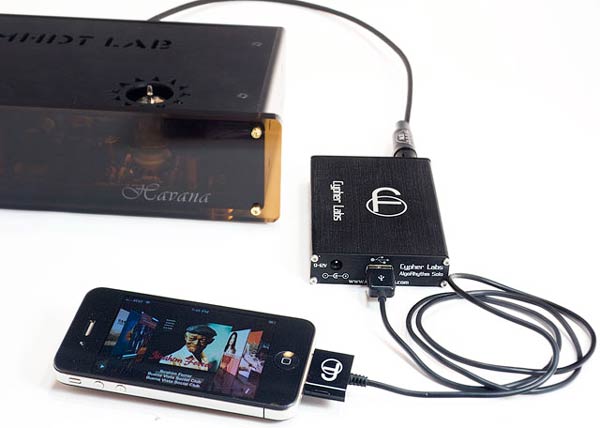 Portland Oregon, December 16, 2010: Cypher Labs LLC, pioneers in enthusiast-class equipment for today's home and portable music devices, is proud to announce the release of the AlgoRhythmâ"¢ Solo – a game changing product that brings the iPadâ"¢, iPhone® or iPod® into the realm of high-end audio sources.
Now available, the AlgoRhythmâ"¢ Solo is a high performance audio processor for mobile and home-based systems designed to generate true CD-quality sound from Apple devices. The AlgoRhythmâ"¢ Solo is completely portable, and is powered by Lithium-ion batteries for extra clean playback and long operation times.
The best possible audio quality is achieved Solo™'s main processor and reference grade Wolfson Microelectronics™ digital-to-analog converter. Now anyone can unlock audiophile-quality music from the convenience of their iPad™, iPhone® or iPod®.
- USB interface to iPad™, iPhone® or iPod®
- Digital signal processed via a reference grade Wolfson Microelectronicsâ"¢ DAC to level line out analog 1.8″ output and….
- Simultaneous output via SPDIF for home use with a desktop or portable DAC
- Jitter-free asynchronous audio
- Lithium-ion batteries (2) for long play times and clean portable power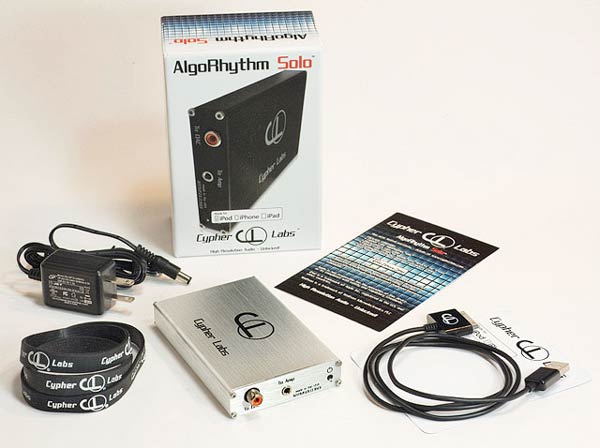 Features:
• Wolfson Microelectronics™ digital-to-analog converter
• Decryption of the Apple USB output (not a "pass through" of the line-out)
• Asynchronous mode USB-to-SPDIF conversion
• Streams bit-perfect digital audio from Apple devices to outputs such as headphone amplifiers and powered speakers
• Communicates using Apple's proprietary iPod Accessory Protocol (iAP) over USB
• Authentication of the accessory to the iPod is performed using the Apple authentication coprocessor
• 10 configurable timers and 3 clock chips allow maximum flexibility in controlling digital timing, which means the device produces extremely low jitter – far below human hearing
• 1/8" stereo analog output and RCA digital output
• Sample Depth 16 bit
• Transfer Protocol Master Host Mode
• Dimensions: 2.8″ x 4.3″ x .75″
• Two Li-Ion batteries in parallel AC switching is totally isolated
• Connects to home and portable headphone amplifiers and DACs
• USB-A docking cable included
• AC adapter and power cable included (international adapters widely available)
• Designed to match in size and audio character with the ALO RxMK II headphone amplifier
Contact:
David Maudlin, CEO, dmaudlin@cypherlabs.com
Ken Ball, VP, kball@cypherlabs.com
Cypher Labs, LLC
4260 Galewood St. Suite B
Lake Oswego, OR 97035
503.828-9700 voice
503.670.7634 fax
http://cypherlabs.com
source – Ken Ball