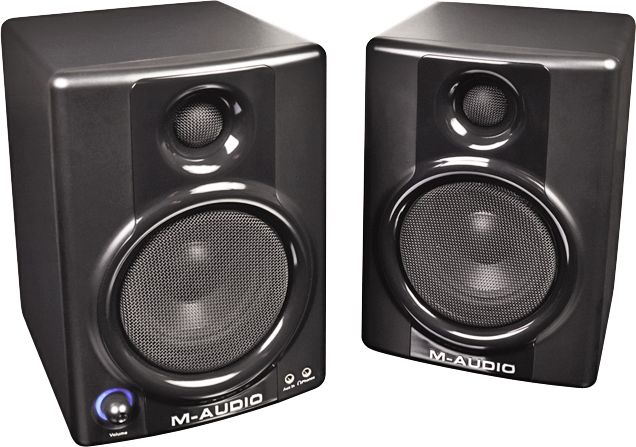 M-Audio Studiophile AV 40 Speakers – What You Need To Know
Pros:
Affordable Home Studio Speakers.
Technology and lineage from a well respected pro audio manufacturer.
Tight, accurate bass down to 85Hz.
Crisp highs that aren't fatiguing.
Very good imaging.
Fairly flat frequency response.
Great for a beginning studio.
Good for that – will it pay well on anything – mix down.

Cons:
Will have to pair with a sub.
Mid range could be a bit clearer.
Build Quality could be better.
Cross overs could be a bit better.
M-Audio's Studiophile AV40 speakers are pretty dang good. Not great, but good for a budding home recording studio. I had a friend who used these for a couple years. While these aren't perfect one can learn their faults and work around them. Which is pretty much the case with any speaker. So while these might have more faults to learn than a $40,000 studio set up from PMC or JBL the Studiophile AV 40s do a good job.
What we learned over time is that the bass is obviously lacking and thus one needs to pair with a sub. But becareful here, maybe cheap subs are very colored. If you are distinctly interested in clarity in the low end, making sure a low piano note and bass guitar are individually distinguishable, well, get better, more expensive speakers. If you are focused on rock, pop, hip hop or techno you'll have no issue pairing with a sub.
The highs while crisp are slightly rolled off. So super high studio recording sound reverberations and reflections might not be heard in the mix down. And lets face it – at $200 you aren't going to hear that deep into the mix anyways. But that is OK, because you are just starting off. Learning to work around your equipments faults can be a more valuable lesson than having it perfect from the get go.
If you are not interested in a home studio and just want a good pair of computer speakers, these will work perfectly as well. But their sound is much more in line with a pro-studio sound than the more colored and listener friendly sound of other computer speakers.
Each speaker has:
Power: 20 W continuous per channel into 4 Ohms.
4" polypropylene-coated drivers.
3/4" ferrofluid-cooled silk dome tweeters. (ferrofluid cooled tweeters retain an openness and staging under acoustic strain – nice touch for speakers at this price point.)
Frequency Response: 85Hz-20kHz.
More Computer Speaker Systems from M-Audio >>
Search AudioReview forums for the M-Audio Studiophile AV 40 >>