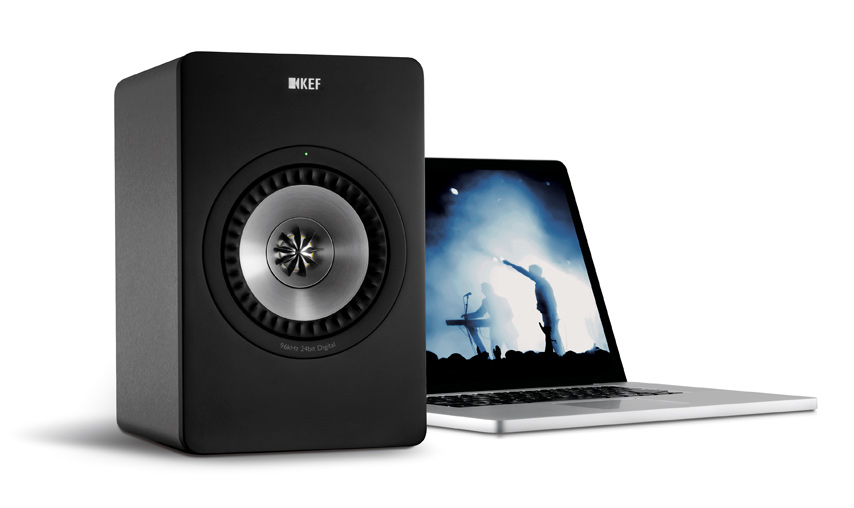 New KEF X300A Powered Speaker Offers High-Resolution Sound from any Smartphone, Tablet or Computer
New powered loudspeaker series delivers unequalled sound performance from devices such as iPod®, iPhone® iPad®, Android® and Kindle Fire® via distortion-free USB input 
Marlboro, N.J. – September 5, 2012 - KEF, the renowned manufacturer of innovative, reference-quality loudspeakers, enters into an entirely new product category with the launch of the X300A digital hi-fi desktop speaker system. The X300A is a premium loudspeaker system that was developed to offer the highest sound reproduction possible from the listener's computer and all of today's popular smartphones and tablets, including Apple® iPod®, iPhone® iPad®, Android® and Kindle Fire® devices, via distortion-free USB input.
"Innovation has been the guiding force behind KEF's success for over five decades," said Alec Chanin, president of KEF America. "The X300A continues that tradition. The X300A addresses the challenges of reproducing today's modern music formats, and delivers them in the highest possible quality. Additionally, this new loudspeaker represents all of the characteristics that make KEF products legendary: superior engineering, premium sound performance and stylish aesthetic design."
Unlike typical powered computer speaker designs, each X300A speaker utilizes two Class AB audiophile-grade amplifiers – one dedicated for HF and one for LF/MF – complete with a toroidal transformer, which significantly reduces the normal "hum" heard while playing most powered speakers. The X300A was designed to mirror the performance of the best in professional studio monitors with an impressive output of 150W of power per channel at 1kHz.
To get the very best from the twin class AB amplifiers, the X300A features KEF's patented Uni-Q driver array, adapted from KEF's flagship Blade speaker. KEF's Uni-Q array places the tweeter in the acoustic center of the woofer. This allows both the woofer and tweeter to act as a single, focused source of sound that is dispersed widely and evenly throughout a room or setting—a feature not found on any other loudspeaker brand.
The 5.25" driver array is neatly housed within a die-cast aluminum chassis to help prevent resonances and creates a more accurate sound. With other innovations such as the Z-flex surround for a smooth transition between cone and cabinet, and large neodymium magnets with copper caps to reduce inductance and distortion, the Uni-Q driver array provides a wide, clean and detailed sound field, whatever source your music is coming from.
The X300A's USB connection provides lossless, high-resolution sound from any computer, smartphone or tablet courtesy of a 96kHz/24-bit digital input featuring an integrated audiophile-quality digital/analog converter (DAC). This assures that when a listener connects to the X300A, they will bypass the source's internal DAC resulting in accurate, high resolution playback from whatever source is connected, whether it's a phone, tablet or computer.
In addition to the USB connection for smartphones, tablets and computers, the X300A offers wireless playback via  an optional Bluetooth® receiver (dongle) or can be used with Apple Airport Express®. A backup 3.5mm analogue connection is included with the X300A to offer an even greater level of functionality with the use of alternative hi-fi components. The speaker's adjustable EQ modes compliment a "Desk", "Stand" and "Desk/Wall" mode allowing the speaker to be optimized specifically for any application. To maximize sound performance, the listener simply selects the "Desk" or "Stand" mode by a switch on the rear panel of the master speaker, or chooses the "Desk/Wall" by inserting the included foam plugs to the rear mounted reflex port on each speaker.
The X300A comes in a brushed gun metal finish and will be available Fall 2012 with a price of $799.99/pair. For more information on KEF, please visit http://www.kef.com.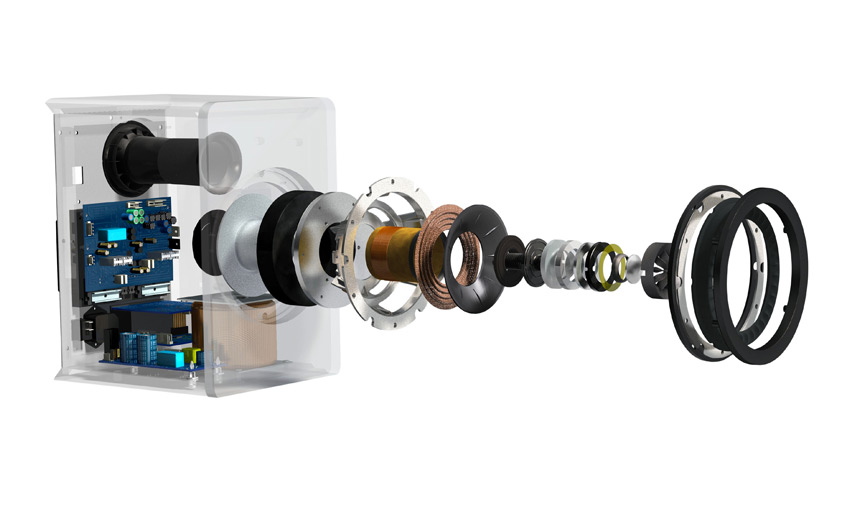 About KEF
KEF's ethos has always been based on the continuing quest to find new and better ways of reproducing sound. Since the company's establishment in Maidstone, Kent in 1961 by Raymond Cooke O.B.E., KEF has maintained a flair for unusual and controversial speaker engineering, design and material use. KEF has always driven innovation in sound with examples including its iconic 'egg', Muon and Blade speakers. KEF is part of Gold Peak Group and its products are available in more than 60 countries. In 2011 KEF celebrated its 50th anniversary and is still committed to building on its strong heritage. www.kef.com