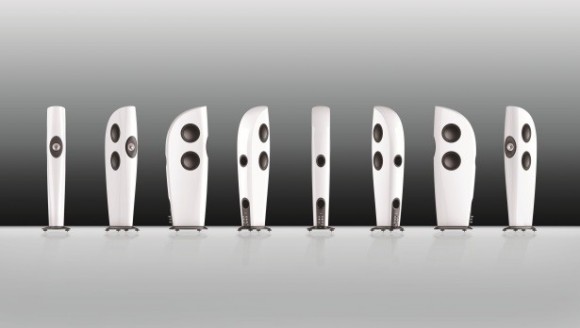 KEF along with authorized Blade dealer, House of Stereo, to give show attendees unique demo of world's first Single Apparent Source Loudspeaker
Marlboro, N.J. – February 28, 2012 – KEF, the renowned manufacturer of innovative, reference-quality loudspeakers, will partner with Jacksonville-based dealer, House of Stereo, to present attendees to Audio Expo North America (AXPONA) 2012, held March 9-11 at the OMNI Hotel in Jacksonville, Fla., with a unique demo of KEF Blade, the world's first single apparent source loudspeaker.
"We look forward to working with the first-class staff at House of Stereo to present attendees to this year's AXPONA show with an up-close and personal listening experience of a truly one-of-a-kind loudspeaker, KEF Blade," said Alec Chanin, president of KEF America. "Together, KEF and House of Stereo will demonstrate how KEF's team of engineers have developed a loudspeaker that puts the listener directly in the recording studio, delivering a sound performance unlike no other.
KEF will work with the team from House of Stereo to demonstrate how KEF Blade's Single Apparent Source technology ensures the entire frequency range of the loudspeaker radiates from one point in space, creating a sound picture that is virtually indistinguishable from a live performance. Attendees will see how KEF Blade is further enhanced by a glass-reinforced composite cabinet that matches the speaker's high performance sound quality with elegant industrial design.
In addition to KEF Blade, attendees to the House of Stereo demo at AXPONA 2012 will have the opportunity to experience KEF R Series. Featuring many of the same innovations found in KEF Blade, the R Series seeks to make higher-end audiophile standards of sound reproduction more affordable. Attendees to the show will hear how fluent new Uni-Q® driver arrays combine with new bass drivers and several additional innovations to create a rich, spacious sound image of such accuracy that R Series approaches the benchmark standards of KEF's legendary Reference Series.
KEF and House of Stereo can be found in the Tampa Room at the OMNI Hotel throughout AXPONA 2012.
For more information on KEF, visit http://www.kef.com.
 
About KEF
For 50 years, KEF has created technology that delivers the best listening experience for people who are passionate about natural sound. Founded on October 2, 1961 by Raymond Cooke O.B.E., KEF continues to maintain its flair for unusual and controversial speaker engineering, design and material use. KEF flourished during the 1960s, and in 1970 received the first of two Queen's Awards for Export Achievement. Ten years of worldwide growth followed, solidifying KEF's reputation as one of the international leaders in speaker engineering. The Gold Peak Group acquired KEF in 1992, backing KEF's British heritage with new ideas, a new personality and new products, leveraging its deep R&D and global manufacturing capabilities, and building on the company's core strengths in acoustics, design, distribution and quality. With the celebration of its 50th anniversary, KEF will continue to build on its strong heritage to define listening experiences for the next 50 years and beyond. www.kef.com  
About KEF America, Inc.
KEF America, a division of KEF Audio, offers loyal North American audiophiles a line of innovative speakers and components unmatched in the industry for quality and innovation. Headquartered in Marlboro, New Jersey, KEF America shares the same guiding principles as its British counterpart: ground-breaking design, exceptional sound and an unshakeable commitment to excellence. For additional information about KEF and its award-winning products and unique technology, please visit www.kef.com.