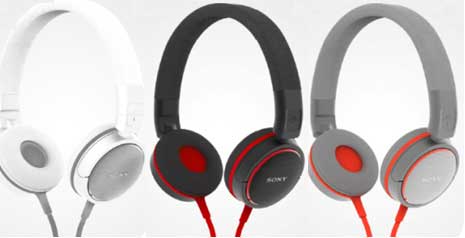 Sony Electronics has just announced the latest additions to its headphone lineup.  The new models include three over-ear styles as well as an assortment of colored ear buds, and a new water-resistant over-ear model for sports enthusiasts.  Details on each of the new models are included below, and more information is available here: http://blog.sony.com/sonyheadphonesannouncement
 
·         MDR-MA900: Sony's new over the head model has a full open structure design and a 40mm driver unit for powerful sound.  Additional models include the MDR-MA300 and MDR-MA100.  The line will be available in April.
·         MDR-V44 and MDR-ZX600: For the DJ on the move, these folding-style swivel headphones come in both black and white, and are equipped with a 40mm driver for high quality sound.  The ZX600 model will also come in gray.  Both models will be available in March.
·         MDR-EX210, MDR-EX40, MDR-EX35, MDR-EX37:  These new ear buds are available now ($39.99) in an assortment of colors including blue, black, purple, red, and white.
·         MDRAS20J/WHI: These brand new, water-resistant headphones have soft loop hangers to help prevent them from dropping off the ear.  Available in white, they're perfect for sports enthusiasts.