Well, these certainly aren't ment to turn any audiophile heads, but maybe they would be a good gift in these hard times for the iPod generation.  $50 for some stylish speakers isn't going to break the bank and might be either a good gift or a stocking stuffer.  The speakers boost the ability to charge your iPod or other USB players, oh, and they also "glow".   I could see hooking these up to the alarm on your iPod.  Awake up to music, and since it is dark outside, you'll have a little morning light!
---
i.Sound® Ice Speakers Boast Big Sound in Compact, Crystal Design
Inspired by Ice Cubes, New Speakers Offer Unique Look.

Torrance, CA (PRWEB) October 27, 2008 — i.Sound®, leading provider of high quality accessories for iPod®, iPhoneâ"¢ and other audio devices, introduces the Ice Speakers as the newest addition to their established line of high quality speaker units. These crystal clear, compact speakers glow with illumination from blue LED lights and are compatible with any audio device that uses a 3.5 mm audio jack including all iPod models.
The first and only speakers of their kind, Ice Speakers are tiny, transparent speakers that glow with ultra-bright blue LED lights when in use, making them the most stylish units on the market. The crystallized PC Plastic forming the speakers' housing is the clearest plastic available, and the substantial weight for the speakers' diminutive size hints at the superior audio technology housed within.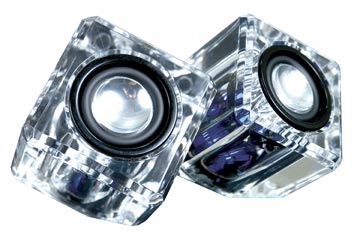 The Ice Speakers' convenient features complement the cutting edge design: The miniature size and the deluxe travel case allow users to easily take them on the go, whether to work, school or from room to room. The included AC adapter is also compatible with iPod and other MP3 players' original USB cable, so users can charge their devices in between play time. This extra feature ensures that users are ready to combat low battery life at any time.
Read the rest at PRWeb.com
source: PRWeb.com and I.Sound.net