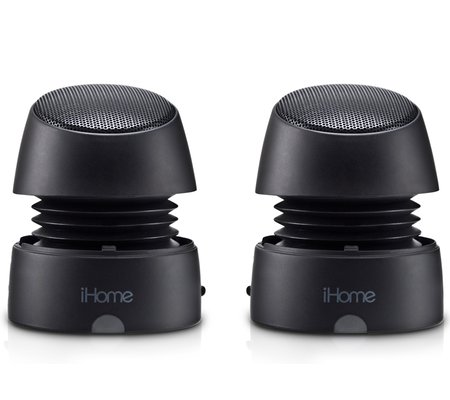 What You Need To Know About The iHM79 -
iHome IHM79BC rechargeable multi-media speakers are a top product on both Amazon and the Apple store right now. Â And while there are many options when it comes to portable speakers iHome has a good reputation for making outstanding products at a good value. Â These little portable speakers are said to offer a great sound and fantastic bass for their size. The IHM79BC use a vacuum bass design that owners credit with pleasing amounts of bass.
The IHM79BC will work with an iMac, iBook, iPod, iPhone and iPad. Basically every Mac product you could own. They are very portable, the base is magnetic and the two speakers just snap together into a pod shape for easy transport. But be careful, some users have reported that leaving them on top of their computers has subsequently corrupted their hard drives.
It does appear that some users are having a grounding issue with the speakers. Â They are said to his while playing music and charging at the same time. Â Some users have reported that a fix is to plug the laptop or other changing device right into the wall as opposed to an electrical strip. Â But play around and use the Apple store reviews. Â There are many good suggestion to solving the 'hiss' problem.
WARNINGS -
Since the base of the speakers are magnetic do not put them near or on the palm part of your laptop. Keep the speakers back behind your LCD screen. Do not put USB thumb drives and other magnetically sensitive material near the base of these speakers.
How Do They Sound -
Reviews have said the iHM79BC sound very good for their size and price. Consistently people have been surprised by the amount of bass and the large sound. No one seems to have complained about a thin or edgy high end or fatigue from listening to them all day long.
Battery Charge Life -
The iHM79BC portable multimedia speakers have been said to last about 15 hours per charge.
Do you use the iHome iHM79BC speakers?
Let others know how they work for you.
Use the comments below or write a full review using the below links.
More MP3 Accessories from iHome >>
Search AudioReview forums for the iHome iHM79BC Black Portable Multimedia Speakers >>