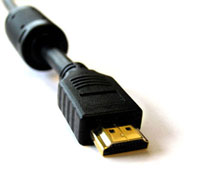 Paul Rako, the Technical Editor at EDN has a good blog post on $10 and $140 HDMI cables spurred by the Christian Science Monitor article Why are HDMI cables so expensive?
Just a discerning audiophile having no real experience in home video, not owning a TV myself or feeling the need to ever own one.  I don't think I would fully trust a reviewer at the CSM. Chris Gaylord, who wrote the article, is the editor of "Innovation" at CMS and if we give him the benefit of the doubt he probably knows stuff.  But does he really know how to tell the difference of high quality hi-def components?  There is so much to know at "Innovation" editor and HDMI cables are so specific.
Well, either way, Paul Rako post is worth the couple min of read time.  You may learn something.
BTW – the quick answer is NO.  There is no difference.  But you'd have to see for yourself.
via: EDN