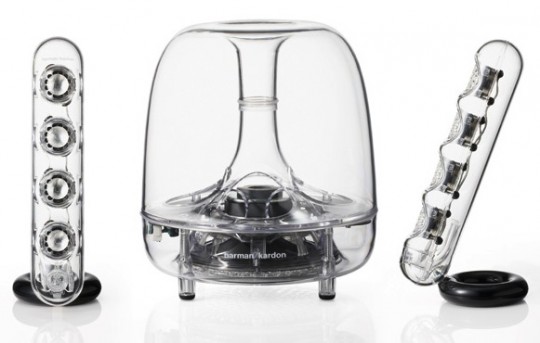 What You Need To Know About The H K SoundSticks III
The now classic look of the Harman Kardon SoundStick is ubiquitous with iMac, iPod, and other Apple products. The new SoundSticks III offers some very slight changes to the over all design and functionality of the previous version.
A white LED gives the subwoofer an ethereal glow and the attached speaker cables are silver. Don't damage the speaker cables, you'll most likely have to buy a whole new unit unless you do a little DYI repair. The design screams modern and classical all at the same time. Unfortunately the only ugly part is the power supply which is hard to hide unless you keep the subwoofer below your desk.
Also if you place the subwoofer on the desk it can be hard to hide the tangle of wires leading from the subwoofer but it will be easy to access the ON/OFF switch. Many users have complained about having to always reach under their desk to turn the unit off. Â The touch sensitive volume control has been reported to be a bit unpractical, so use your computer volume control the SoundSticks.
How Do The SoundSticks III Sound
The downward firing subwoofer appears to be everybodies favorite part of this system. Reviewers and users a like report it being thunderous and floor shaking. But with the subwoofer under the desk and the tweeters on top, so much closer to your ears, there can be a significant disconnect in the sound. So if you are able to move the subwoofer unit up to your desk you'll have much more coherent sound and stage.
The overall sound has been reported to be crisp and bass heavy. And even though the highs are detailed the mid range does suffer. Voice, piano, strings, will tend to sound a bit more thin and boarder line tinny with the SoundSticks. Given those 4 little 1-inch tweeters in each stick are being asked to produce sound they just are just not very good at physically reproducing, and the subwoofer is also being asked to create a lower mid range, nearly impossible for a sub, which is designed to produce sound in the 50Hz and below, to sound good up to 250Hz or more. It is just hard for these subwoofer and super small satellite designs  to get the mid range correct. So while the sound satisfying to many, more discerning listeners my want to look else where.
Do you use the Harman Kardon SoundSticks III?
Let others know how they work for you.
Use the comments below or write a full review using the below links.
More Computer Speaker Systems from Harman Kardon >>
Search AudioReview forums for the Harman Kardon Soundsticks III >>
Specifications:
A 6-inch, 20-watt downward-firing powered subwoofer. Eight 1-inch full-range transducers. Plug-and-play compatibility with virtually any multimedia device. And stunning industrial design that perfectly matches the clarity of the sound.
Odyssey transducers with computer-optimized equalization
Outstanding bass performance
Touch volume and mute controls
Subwoofer volume control
Angle-adjustable satellites