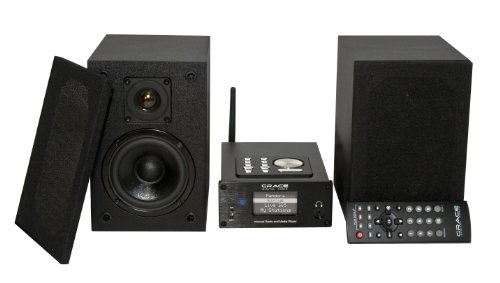 Whether its Pandora, Rhapsody, Internet radio, or streaming music from your local Mac or PC, Grace Digital's WiFi Micro Bookshelf system (Model GDI-IRMS300)seems to pull it off. With this 2.0 micro stereo system you get even more because the unit comes with a 2x16W Class-D amplifier and a pair of 2-way mini bookshelf speakers. This makes the system completely portable, though not in the "carry it around with you sense" and makes it the perfect addition to any small office or dormitory in need of tunes. Best yet, the company both organizes and consolidates your music in a way that is refreshing and simple.
Continue Reading @ Audioholics
Key Features:


www.gracedigitalaudio.com

Over 50,000 Radio Stations, Podcasts, etc
Supports: Pandora, NPR, iheartradio, Live365 and PREMIMUM SIRIUS XM internet radio, Weatherbug, Rhapsody
Grace iPhone Touch remote control app
16 watt RMS (50 peak) Class D amplifier
2 x 3.5″ mains + 1″ tweeters
3.5mm Stereo headphone jack
RCA input/output jacks
About Audioholics.com -Audioholics.com is the largest audited home theater A/V publication online with over 1.1 million monthly readers. Founded in 1999, Audioholics provides more in-depth non-biased professional reviews, tech articles, daily news, how-to's and buying guides than any other site of its kind. It empowers readers who are making purchases and inspires readers who are striving to maximize their A/V experience.