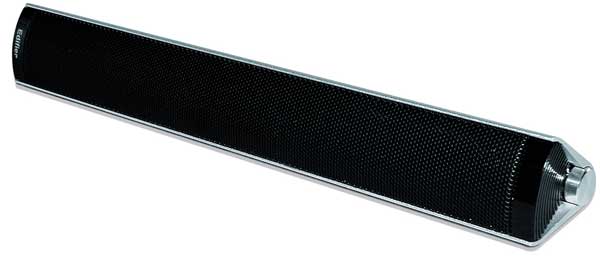 The Edifier MP250 Soundbar – What You Need To Know
Laptop speakers are awful. Some are better than others, but lets face facts, they are notorious for being thin, tinny, irritating and having no mids – lows. Bass kicks that sound like finger snaps are less than awesome.
In steps the Edifier MP250. With its brushed aluminium body that matches a MacBook, is portable, small, well built, and produces an acceptable level of bass with its custom designed passive bass radiator. Two 1.25-inch full range speakers offer stereo sound that fits right on your laptop between the keyboard and LCD. Put that dead space to use.
It plugs in via USB and is plug and play compatible. Â No driver installs needed. Â There is also a mini 1/8th-inch jack for plugging in other sources. Â Both cables are provided to you. Â The volume button on the right side is shaped like a typical rotating level control but it is actually a button you press.
The MP250 itself is fairly weighty but not so heavy as to make it a pain to carry around. Â Just weighty enough to know it isn't build out of cardboard and to give you some sense of product value.
The MP250 comes with a carry bag and the unit can with stand a bit of abuse.
How Does The Edifier MP250 Sound?
In the context of a portable laptop speaker the MP250 does a very good job. Reviewers have reported that the bass is punchy and the sound isn't irritating.
Volume can be adjusted to a good level without distortion.
Do you use the Edifier MP250 Soundbar?
Let others know how it has worked for you.
Use the comments below or write a full review using the below links.
More Computer Speaker Systems from Edifier >>
Search AudioReview forums for the Edifier MP250 Portable Speaker >>