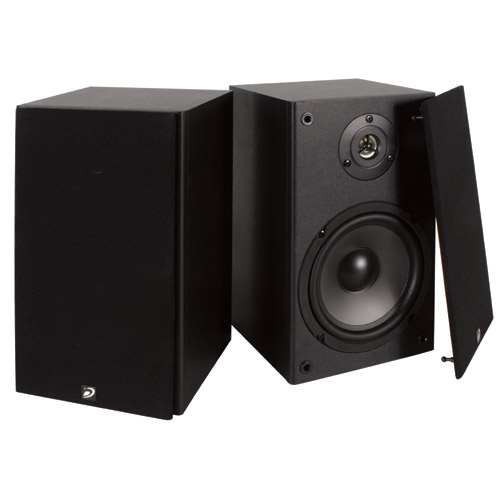 What You Need To Know About The Dayton Audio B652
Dayton Auido is well known for producing OEM and DIY speaker drivers, kits, finished speakers, home theater and professional products. They make a slew of audio components including amplifiers and cabling. Though via Parts Express one can pick up their B652 bookshelf speaker that has slowly built a cult following that has earned it a place in the Top Seller list on Amazon.
The B652 utilizes a two-way design that features a 6-1/2″ polypropylene cone woofer and a 5/8″ polycarbonate ferrofluid cooled dome tweeter. The speaker is reported to accurately reproduce audio from 70 through 20,000 Hz but if one hunts down a frequency response graph you'll notice the response is anything but flat. Especially with the bleed over of the woofer into 10K and higher frequencies. But that doesn't mean it sounds bad, just isn't 'accurate'. At 8 Ohms it should pair well with any stereo or home theater amplifier or receiver. The box is a closed design, no port. So they bass produced should be clean, punchy and fast. Though only going down to 70Hz means that it won't shake the rump. You'll do well to pair the B652 with a sub-woofer if you are looking for more bass. Amplifier or receiver will need to put out at least 40W and max out at 75W. Most consumer level amplifier should be well within that range. With a 87 dB sensitivity rating, you'll probably get a better sound and stage if you pair with an amplifier that is closer to the higher Wattage rating. Should keep highs from thinning out and lows from disappearing.
Users have consistently reported smooth, clear, and warm sounds. A clean and punchy bass but it doesn't go very low. If you don't pair with a sub, hip hop, rock, and most pop will tend to sound a bit top heavy. But with smooth highs and warm midrange and based off user reviews, the speakers aren't fatiguing. So though the music might be tip toward the upper end, it shouldn't be irritating.
How To Set Up The Dayton Audio B652
Since these speakers are so small and a closed box, they will preform best in near field listening and you'll get better bass response if you get get them right against a rear wall or in corners. Placing them on a desk or in a small room will work best, but some users have used them 3 to 4ft away from the rear and side walls in their home theater systems and have reported good results. Lows and bass will surely be clearer and cleaner, but there will be no rump shaking.
Pair the speakers with any amplifier or receiver that puts out 40w-75W at 8 Ohms. These speakers would do fine if you want to cheaply replace your satellites in a surround sound system.
Do you use the Dayton Audio B652 Bookshelf Speakers?
Let others know how they work for you.
Use the comments below or write a full review using the below links.
More Bookshelf Speakers from Dayton >>
Search AudioReview forums for the Dayton B652 >>