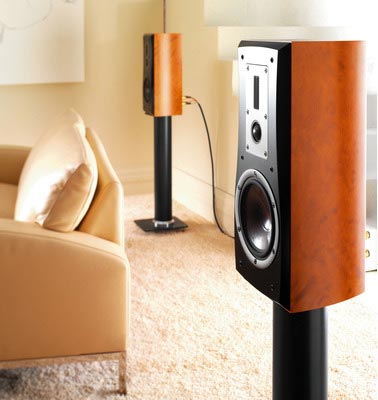 What is the highest frequency you can hear? The common belief is that the range of human hearing is from 20 Hertz (cycles per second) to 20,000 Hz. Young people can often hear frequencies at or near 20 kHz, but as we age and our hearing is damaged by years of loud music, gunfire (hopefully from sporting arms), civilization, and possibly vocational noise, our hearing acuity decreases in the upper frequencies. This is not usually a problem for the purpose of listening to music, because as frequency increases, the amount of musical content decreases. Above about 10 kHz, only the upper order harmonics of fundamental notes remain. Nevertheless, these harmonics are critical to hearing the character of the instrument that created the original sound.
Otologists use a steady tone at the frequency of interest to test your hearing. They increase the volume for you and you signal when you can hear the tone. This may be an adequate test of your ability to hear speech, music and other natural sounds at a given frequency, but I suggest that you can hear far higher frequencies than the doctor's graph of your hearing might indicate. In other words, a hearing test is only partly valid.
What is the frequency of a drum stick hitting the rim of a snare drum? Or a guitar pick touching a string? Or, for that matter, the leading edge of any sound. These impulse sounds do not have a frequency because they are instantaneous. They happen NOW and are gone. There is no note, little tone, and no significant harmonic trail afterwards. If you could put enough of these sounds together to be able to measure on a cycles-per-second scale, the number would be very high. Certainly there could be over 20,000 of these impulses per second, and possibly 50,000 or more. Can you hear the tapping of a stick on a triangle? You bet you can!
Euphonia RS3 Specs:
| | |
| --- | --- |
| Frequency range (+/- 3dB) [Hz]: | 64,0 – 28.000,0 |
| Sensitivity (2,83 V/1 m) [dB]: | 87,0 |
| Nominal impedance [ohms]: | 4 |
| Maximum SPL [dB]: | 108,0 |
| Recommended amplifier power [Watts]: | 50,0 – 250,0 |
| Crossover frequencies: | 2.600 / (15.000) |
| Crossover principles: | 2+½-way |
| Hybrid tweeter module, Super high frequency driver: | Ribbon |
| Hybrid tweeter module, High frequency driver: | Soft textile dome |
| Low frequency driver: | Wood fibre cone |
| Enclosure type: | Closed box |
| Bass reflex tuning frequency [Hz]: | 72,5 |
| Connection input(s): | Bi-wire |
| Max loudspeaker dimensions incl. base and grille (HxWxD): | 470 X 200 X 203 |
| Loudspeaker weight including base and grille [kg]: | 11,0 |
About 10Audio
10Audio content is shared with the consent of 10Audio.  Don't know about 10Audio?  Check them out. Here is 10Audio's hi-fi philosophy. "This site is by audiophiles for audiophiles. Our experience includes more than 30 years of audio sales, DIY, and consulting services. So if you are interested in another "qualified" opinion, please read on.You won't find any advertising so impartiality is assured. Sometimes it takes a while to post a review. Thank you for your patience. This site is BS-free, which, as you know, is an entirely relative statement." www.10Audio.com