Groundbreaking design now available at dealers worldwide, and debuting at events in New York, Delaware and Pennsylvania.
WESTON, CT, MARCH 30, 2011 — After a year and a half of research and development, D'Agostino LLC has begun shipping its innovative new Momentum amplifier to dealers around the world, the company announced today. Company founder and acclaimed high-end audio designer Dan D'Agostino will personally introduce the amplifier at dealer events in April and May.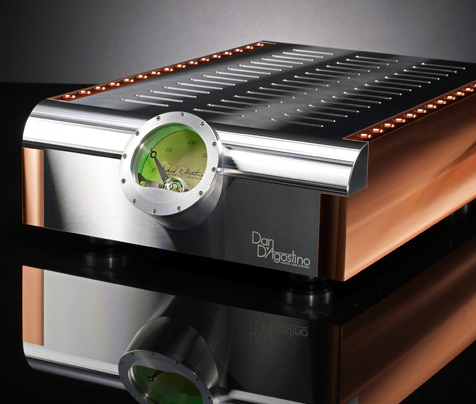 The Momentum amplifier has earned praise from numerous publications and industry experts for its unique, innovative technology and incomparable sound quality. Through the use of copper heat sinks with cooling venturis; an efficient power supply design that consumes less than 1 watt at idle; and hand- construction using rugged through-hole circuit boards, the Momentum delivers an incredible 300 watts into 8 ohms from a stylish, compact chassis.
The first production run of the Momentum amplifier recently shipped to key dealers around the world. "We're proud to say we have the best dealers in the business," D'Agostino commented. "We've chosen them for their passion for the world's finest audio products, and for their ability to demonstrate the full capabilities of these amplifiers." The company currently has six dealers in the U.S. and 22 international distributors, and is in talks to add more dealers during 2011.
Dan D'Agostino will be demonstrating the amplifiers himself at three upcoming U.S. dealer events. The first will be at Innovative Audio in New York City (iavny.com), April 27 from 6 to 9 p.m. D'Agostino will then join David Wilson of Wilson Audio Specialties and Karen Sumner of Transparent Audio Laboratories for the "Big Three Summits" at the Hi-Fi House (hifihousegroup.com) locations in Jenkintown, PA on May 4, 6 to 9 p.m., and Wilmington, DE on May 5, 6 to 9 p.m.
Due to the recent sharp rise in the prices of copper and aluminum, the company also announced a price increase on the Momentum amplifier from $42,000 per pair to $45,000 per pair. The first production run of the amplifier has been sold, and a second production run has now begun to fill the demand.
For more information on D'Agostino LLC and its products, please visit www.dagostinoinc.com.
ABOUT D'AGOSTINO LLC
D'Agostino LLC was founded in 2010 by famed high-end audio designer Dan D'Agostino, former founder and Chief Engineer of Krell Industries. The company designs and builds high-end audio electronics in its Weston, CT facility. All products are built and tested by hand to the highest standards, and all incorporate innovative design and circuit topologies not seen in any other audio products.