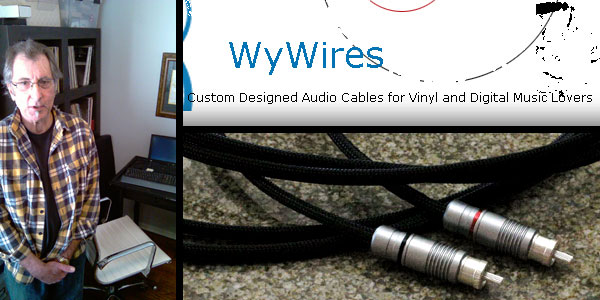 Los Angeles, California – May 23, 2011 – WyWires, cult producer of hand-made high-end audio interfaces, has ramped up presence for the upcoming show, doubling partnerships over T.H.E. Show Las Vegas this past January.
Goals for the company at this show are to engage consumers and educate them on using cables as an important step toward improving a system. WyWires also seeks more distributors and dealers on a global basis.
"It's been a wild 6 months – a wild year actually since our launch in 2010," says President & Chief Engineer Alex Sventitsky.
"We've brought five products to market, added distributors and dealers in Singapore, Norway, Hungary, and the US, and circled the globe with our customer base from Australia to China. Key to our success so far has been the involvement of our beta group in Spring 2010 in testing and product development. The beta team spent time and eventually money to invest in our future and they continue to be an influential group within WyWires."
Sventitsky pays special homage to the mentorship of some key industry movers. "These leaders gave us legitimacy – people like Bob Levi (Positive Feedback, LAOC Audio Society) Richard Beers (T.H.E. Show) Dan Meinwald of E.A.R. USA, Brian Cheney of VMPS, Fritz Heiler of Fritz, and Dan Wright of Modwright. We could not have reached this point in our success,during the first year, with many cable companies coming and going, without this fantastic network.
WyWires will be in three suites at T.H.E. Show – 207 (Fritz Loudspeakers main room), 411 (VMPS RIbbon), and 414 (Precision Transducer Engineering.) New phono stage company Zesto Audio will be launching at T.H.E. Show in the Fritz suite.
Sventitsky, an unabashed martini-lover whose wife is in the wine business, promises great music and a great time for people visiting 207…especially if attendees drop by around 4 pm on Friday and Saturday afternoons.
About WyWires
WyWires' product line is a truly revolutionary departure from industry norms, even for cables in upper price ranges.
The company produces a full line of cables – analog and digital interconnects, phono, CD and speaker cables, and power cords – all with WyWires' hand-crafted and proprietary wire formulae. All WyWires products provide greater retrieval of musical detail, a heightened sense of realism and eliminate listening fatigue with a natural, organic presentation.
WyWires cables have virtually no shielding, and are made with a proprietary Litz wire formula – not pre-manufactured wire made in China. All components are made in the USA, Canada or the EU – and cable crafting is done locally in Los Angeles. Each cable is tested before it goes out to the customer and no sale is made until a consultation session is completed. The company offers a 30-day satisfaction guarantee.
WyWires products are available for purchase on a factory direct basis as a global distributor/dealer network is being built. Please visit http://www.wywires.com for more information about the company and its products.
For reviews of WyWires Cable products:
ComputerAudiophile.com (LITESPD USB)
Stereomojo.com (Interconnects, Marvin Bolden)
positive-feedback.com (LITESPD Digital Interfaces, Robert H. Levi)
audioreview.com (Introduction,  Adam LaBarge)
source: Alex Sventitsky