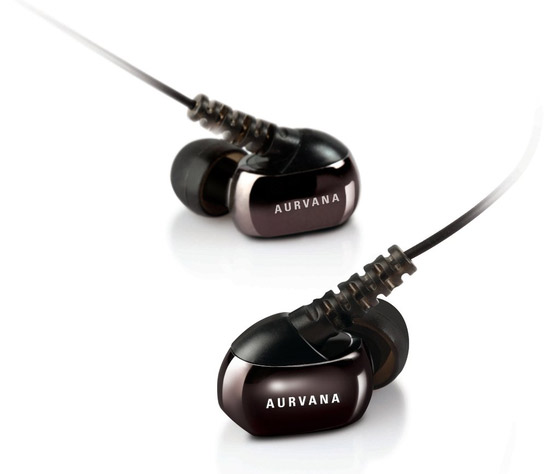 Creative Labs has expanded since their early days of manufacturing PC soundboards. Currently they make speakers, webcams, MP3 players, and of course some of the best soundboards in the consumer market. They have worked hard to offer excellent products, yet, until now, they have not been on my short list of manufacturers who produce audiophile grade earphones.
The Aurvana In-Ear 3 earphones landed on my desk a few weeks ago, and after about 20 hours of burn in, they have become my all day listening preference. There are three very good reasons for this choice. First, the A3 offers a coherent and tonally rich mid-range that has a slight boost to the upper mid-range emphasizing the recording space of acoustic instruments and vocals. Secondly, they offer an expansive and three-dimensional soundstage. And finally they are never fatiguing.
As a result of Creative Lab's Dual Balanced Armature Tweeter and Woofer, and a patent pending acoustical partition which prevents the premature mixing of music, the Aurvana 3 headphone provides a harmonious blend of detailed highs and rich mid-range.  Whether it is Tom Waits' craggy mumble, Lisa Gerrard's pure and powerful voice, or the timbre of natural instrumentation, the A3 excel at reproducing the complexities of the human voice and natural sound. Even heavily produced studio sounds and electronic music, from a digital source, have a bit more of an analog mid-range smoothness that makes listening very enjoyable.
Sadly, many earphones tend to flatten out the center channel, not dynamically, but in terms of the space created by the sound. The music piles up and the sounds stack, becoming one-dimensional. However, the soundstage produced by the Aurvana 3 is very good. Not in terms of  left and right channel extension, which is fine, but the Aurvana 3  have an ability to create a full and developed center channel. This I find to be exceptional. The A3 gives center-channeled sounds a space to fill, while creating a real environment between the ears. It is this quality that places the Aurvana 3 ahead of most earphones in their price range, and into hi-end audio.
Listening fatigue is definitely not a complaint with the A3. Sound characteristics are not aggressive, overly bright, edgy or forward. The slightly relaxed dynamics, extended but soft bass, mixed with a detailed and tonally rich textures, allows for hours of pleasurable listening.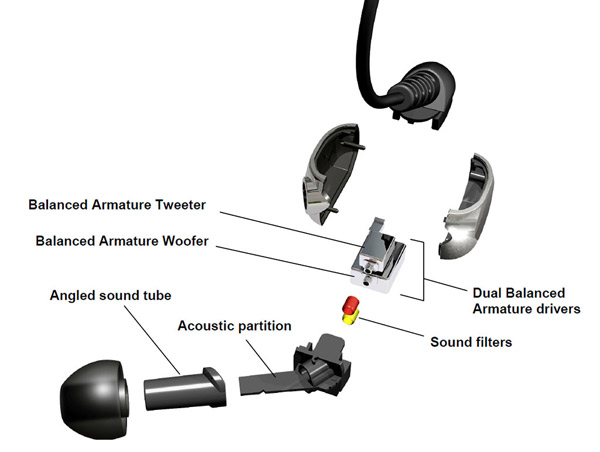 The Aurvana 3 In-Ear headphones are priced at a $150, which may seem a bit steep. But, the amount is mid-way into entry level high end, where prices can exceed $1500 and sound quality is beyond phenomenal. So at $150 trade-offs and flaws are expected, and the A3 is no exception. These are primarily found in the micro and macro dynamics, and the bass slam. If you crave hyper-articulation and powerful low notes, you won't find them here. However, depending on the sound source and amplifier, these weaknesses may be mitigated. While under review, the Aurvana 3 was paired with a variety of components: iPods, HiFiMan, the HagUsb, Trends Audio PA-10 tube headphone amplifier backed by about six thousand dollars in gear. And though the sonic characteristic of the A3 are altered by various backing components, I found myself wanting a bit more bass slam and dynamics. At least at moderate and lower volumes.
The Aurvana 3s come with a large variety of tip options. Both the flexible silicone tips are provided, as well as some solid hard tips. I found the flexible tips created a better in-ear seal, which allowed for more bass and a better, if not more comfortable fit. Through hours of listening while on the hectic public transportation the Aurvana 3 stayed in place and even offered good isolation in the mid-range to highs, but didn't block out the low rumble of the BART system. Most importantly they were never uncomfortable. The cable for the Aurvana 3 could use a bit of an upgrade. While other $150 earphones offer a non-tangle and more robust cable the Aurvana 3 falls short.
Overall I liked and would recommend the Aurvana 3 earphones. Their coherent sound with a slight bump in the upper mid-range should please jazz, vocal, and acoustic music fans, but they surely shouldn't be pigeon holed into these musical genera. Plus the non-fatiguing sound offers hours of enjoyment. On a final note, if you plan to use these with your desktop computer you should absolutely consider an off board DAC or amplifier, or a soundcard from Creative.