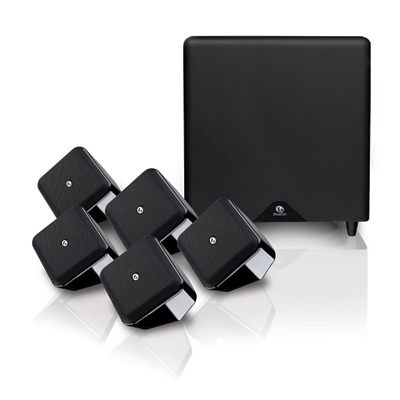 BOSTON ACOUSTICS BRINGS EVEN MORE POWER AND DYNAMICS TO THE SURROUND SOUND EXPERIENCE WITH NEW "SOUNDWARE S" HOME THEATER SPEAKER SYSTEM
– Significant Upgrade to Boston's Acclaimed SoundWare XS 5.1 System;  Compact SoundWare S Offers Even Greater Acoustic Performance, In Stunning High Gloss Finish –

Peabody, MA, November 2, 2011 – Boston Acoustics®, Inc., a world-renowned manufacturer of innovative home entertainment solutions and high performance loudspeakers, is expanding its award-winning SoundWare loudspeaker family with the debut of its new high-performance six-speaker SoundWare S Home Theater Speaker System (MSRP: $799.99). A step-up version of the company's award-winning SoundWare XS 5.1 system, SoundWare S offers home theater lovers even greater acoustic performance, with more immersive surround sound, more detailed dynamics and higher output. The high gloss black version of the system will be available in October 2011.

The SoundWare S system is comprised of five ultra-compact SoundWare S satellites, each measuring less than 4 inches, plus a compact 10" 200-watt (300-watt Peak) powered subwoofer. It's the ideal solution for consumers who want to do away with bulky "box type" speakers and enjoy rich, room-filling sound in a stylish, compact system.
Kevin Zarow, Vice President of Sales for Boston Acoustics, noted: "Our SoundWare line has been embraced because of its distinct design and flexibility. Now consumers looking for a compact, high performing home theater speaker system have another option with our SoundWare S. The slightly larger sized SoundWare S speakers create an even greater acoustic experience than that of our award-winning SoundWare XS 5.1 system."
For users who want an even more detailed and immersive audio soundscape, Boston Acoustics is making optional SoundWare S Special Edition satellite speakers available, allowing users to create 6.1 or 7.1 channel surround sound systems. The compact satellites provide the dramatic audio power and performance of true two-way speakers, with 3½-inch (65mm) mid-bass drivers and ¾-inch dome tweeters. The result is astoundingly accurate and pure sounding music.
Boston's "Smart" Features
Like all Boston Acoustics products, the new SoundWare S includes "Smart" features designed to give consumers several ways to enjoy all their entertainment content:
Distinct SoundWare polyhedron shape for virtually unlimited placement options
Stealth articulating mounting brackets allow the speakers to be hung flush on a wall, or tucked away in a corner while allowing the speaker to be angled towards the main listening area
Powered subwoofer features Boston's Patented BassTrac® circuitry for clear undistorted bass at all listening levels and includes both speaker level inputs and outputs and a line level out, providing consumers with the easiest, most flexible setup
Miniaturized authentic 2-way satellite system for true full range sound
Satellites feature dual wire channels for easy connections, with rear panel wire grooves for easier hook-up
MagnaGuard magnetic shielding
Boston Acoustics SoundWare family includes SoundWare S (MSRP: $799.99), SoundWare XS Special Edition (MSRP: $599.99), SoundWare XS 2.1 (MSRP: $399.99), SoundWare XS 5.1 (MSRP: $499.99), and SoundWare (MSRP: $99.99).
About Boston Acoustics
Founded more than 30 years ago, Boston Acoustics is a world-renowned leader in high-performance loudspeakers, tabletop products, and advanced car audio systems. The company's "Play Smart®" approach is reflected in its product design, which allows consumers to enjoy high-performance audio while expressing their personal style and tastes. For more information on the company's full range of advanced products, please visit BostonAcoustics.com.
About D&M Holdings Inc.
D&M Holdings Inc. is a global operating company providing worldwide management and distribution platforms for premium consumer, automotive, commercial and professional audio and video businesses including Denon®, Marantz®, McIntosh® Laboratory, Boston Acoustics®, Snell Acoustics, Escient®, Calrec Audio, Denon DJ, Allen & Heath, D&M Professional and D&M Premium Sound Solutions. Our technologies improve the quality of any audio and visual experience. All product and brand names with a trademark symbol other than the Dolby trademarks listed below are trademarks or registered trademarks of D&M Holdings, Inc. or its subsidiaries. For more information visit, www.dm-holdings.com.
DISCLAIMER
Statements in this news release that are not statements of historical fact may include forward looking statements regarding future events or the future financial performance of the company. We wish to caution you that such statements are just predictions and that actual events or results may differ materially. Forward looking statements involve a number of risks and uncertainties surrounding competitive and industry conditions, market acceptance for the company's products, ability to meet targeted product release dates, risks of litigation, technological changes, developing industry standards and other factors related to the company's businesses. The Company reserves all of its rights.