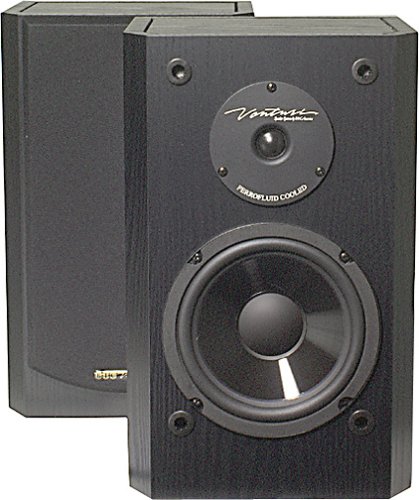 BIC America DV62si Speakers – What You Need To Know
There aren't many speakers on AudioReview with 49 reviews and a 4.65 out of 5 rating and an over 4 star rating on Amazon with 99 reviews. Are you looking for new bookshelf speakers? Well these should be a contender. Originally priced at $275 the DV62si speakers can be had from $110-$175.
BIC America DV62si Specifications are:
2-way, "Venturi" tuned-vent bookshelf speakers with wide, 43 to 20,000 Hz frequency response for deep bass and extended treble
90 dB sensitivity; recommended for use with amplifiers pushing 10 to 150 watts per channel
6-inch poly/graphite woofer, .75-inch poly dome tweeter per speaker
Video-shielded for distortion-free placement near televisions or computer monitors
Measures inches 8.9 x 14.8 x 9.1 (W x H x D) each
Gold plated terminals
31-pounds per set
The DV62si can be used in near field or mid field stereo or home theater surround sound applications. If you plan to use in a home theater set up these other BIC America model speakers will be your best timbre match; the DV53CLR (center speaker), DV62CLR-S (center speaker), DV5 (rear/all-channel speaker), M-SR6 (ceiling speakers), and M-60 (In-wall speakers).
The DV62si speakers are available in both a black and oak finish.
How Do The DV62si Sound?
All know specifications don't a speaker make. Reviewers find the DV62si sound to be crisp and for some boarding on bright or hot. So watch the equipment you match these with. You could easily over do the top end and have a bad listening experience. That is why Ed Frias will do a cross over modification for you if you have 'hot' sounding electronics behind the speaker. At a 90dB sensitivity these will pair well with a lower powered and smoother T class amplifier. You can pick from a whole slew of these on eBay, for cheap.
Otherwise the staging (how the instruments and singer or separated across the left to right of the stage sound) is remarkably good for speakers at this price point. With the EFE modification, of course depending on backing electronics, speakers still have a great stage. Many users say they are completely transparent and very easy to setup to sound so.
Do you use the BIC America DV62si Speakers?
Let others know how they work for you.
Use the comments below or write a full review using the below links.
More Bookshelf Speakers from B.I.C. America >>
Search AudioReview forums for the B.I.C. America DV62si >>