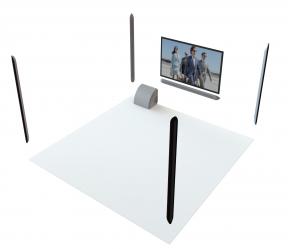 The Korners Speakers integrate seamlessly into living spaces and deliver
extraordinary audio performance
BOSTON, Mass. – September 5, 2012 – AudioXperts, the new luxury audio brand committed to delivering unique audio solutions, introduces an entirely new approach to loudspeaker room integration with the launch of its Korners collection.
Perfect for design-minded homeowners who demand that their speakers blend into the surrounding décor without sacrificing performance, Korners offers professional integrators an innovative solution to traditional, in-wall, and ceiling speakers. The initial Korners lineup includes the Korners Speaker, a 2-way L/C/R loudspeaker with the unique ability to fit perfectly into any corner or anywhere a wall meets the ceiling or floor. To compliment the Korners Speaker, the Korners Kompact Sub, a wireless-ready 100-watt powered subwoofer, can be positioned in corner or against a wall. An optional wireless transmitter is available to make for easier placement and installation. A more powerful Korners Sub (MSRP TBD) will be introduced at a later this fall.
"The Korners collection delivers a difficult to achieve concept: unobtrusive ultra-slim form factor and wide dispersion high performance audio reproduction." said Eli Harary, president of AudioXperts. "Korners is truly a one-of-a-kind range of high performance audio solutions that uniquely blends into any living space."
The versatile Korners Speaker's impressive driver compliment includes a 1-1/4″ soft dome tweeter, six 2″ fiber cone woofers, and eight 2″ passive radiators ­– all enclosed in an extruded aluminum cabinet only 3″ wide.
There are two grille size choices available for the Korners Speaker. The 68" grille is designed for Left/Right vertical positioning and raises the tweeter to the optimal height for improved stereo imaging, and the 55" Center Channel grille is specifically designed for horizontal placement below or above a TV or video screen. Integrated wall brackets, wire channel, and 5-way binding posts make for easy mounting and installation. There is also an optional floor stand if wall or corner installation not applicable.
The Korners Speaker features three designer-friendly grille finishes including Black, Silver, and a paint-ready Satin White. The Korners Kompact Sub is available in Black and Silver finishes.
The Korners collection includes:
Korners Speaker
·         1" wide bandwidth tweeter
·         Six 2" fiber cone woofers
·         Eight 50mm passive radiators
·         Two grille lengths options and three grille finish options
·         90Hz-25kHz frequency response
·         5-Way binding posts
·         Optional floor stand for placement flexibility
·         Dimensions with LCR Grille (H x W x D): 66-1/2 x 3-1/2 x 2-1/4″ (1691 x 91 x 57mm)
·         Dimensions with Center Channel Grille (H x W x D): 3-1/2 x 56-1/8″ x 2-1/4″ (91 x 1426 x 57mm)
Korners Kompact Sub
·         100-watt amplifier
·         8" long throw poly cone woofer
·         30Hz-300Hz frequency response
·         Position in corner or against wall
·         RCA Line Level input
·         Dimensions (H x W x D): 12-3/4 x 18-1/16 x 12-3/4″ (325 x 460 x 325mm)
Korners models include a five-year, parts and labor warranty as well as an impressive two-year, over-the-counter exchange policy, assuring customers that when they purchase an AudioXperts product, they can feel confident that they are receiving the best in product reliability.
Korners from AudioXperts will make its official debut at CEDIA EXPO 2012, held September 6-8 in Indianapolis, Ind. Korners will be available through authorized dealers, select retailers and directly through AudioXperts in Late Fall of 2012 (Pricing TBD). For more information, visit http://www.audioxperts.com.
About AudioXperts
AudioXperts is dedicated to delivering unique audio solutions, with best in category/class design, incorporating only the highest quality materials, while delivering exceptional sound quality and performance. The AudioXperts Team brings over 100 years of combined expertise and passion in order to provide consumers with products that exceed expectations. By incorporating the finest materials and applying the latest technologies, in sophisticated, flexible and intuitive designs, AudioXperts ensures an extraordinary user experience and unparalleled pride of ownership.