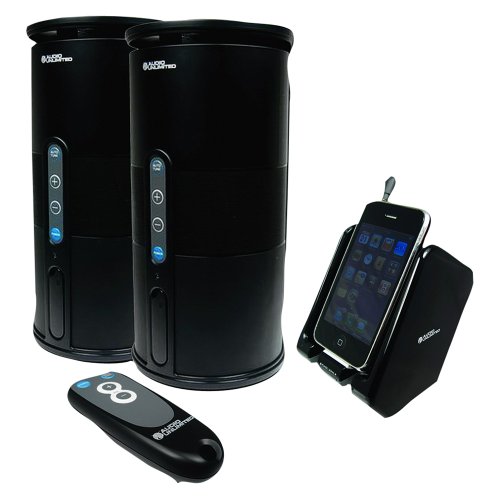 Audio Unlimited iPod Wireless Outdoor/Indoor Speakers – What You Need To Know
Pros:
Wireless Mobility
Stylish and Fairly Solid Construction

Cons:
Sound like computer speakers – Very little bass or lower mid-range.
900Mhz means interference from wireless phones and baby monitors
Not a true iPod dock
Mono-sound. Not Stereo
Now that summer is here and BBQ have been pulled out and prepped it is time to get some music going in the back yard or park. The Audio Unlimited SPK-VELO-003 are battery operated and the 1/8th-inch audio in plug allows any phone or mp3 player with a headphone out to be plugged in. As long as there are no interfering signals you'll get someone decent sound.
Overall though most people are either fairly disappointed in the sound quality or weren't expecting much to begin with. If you want better outdoor sound you might want to check out the Audiovox Acoustic Research AW825 Wireless Outdoor Speaker which uses a much larger mid/bass woofer.
Unfortunately the remote does not turn on the speakers, only adjust volume. The speakers can be plugged into a wall and left on and will do fairly well if outside in moderate weather. For hard winters or storms they should come back inside.
More Outdoor Speakers from Audio Unlimited >>
Search AudioReview forums for the Audio Unlimited SPK-VELO-003 >>