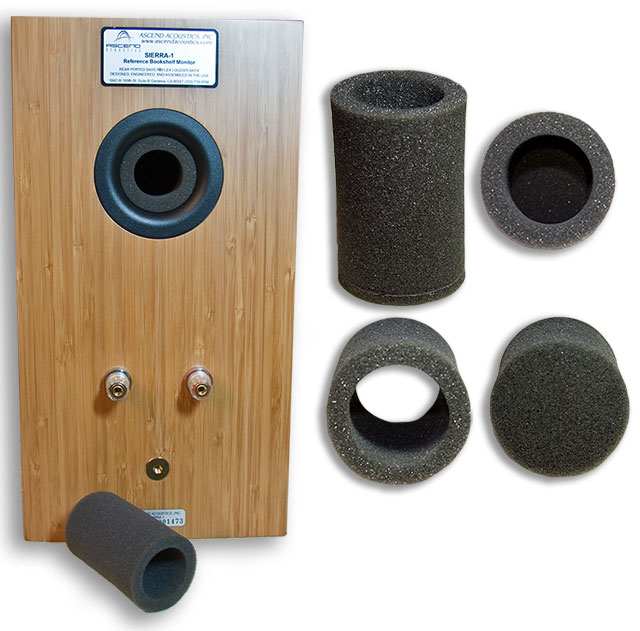 The Sierra-1′s Sound
The Sierra-1's were very easy to set up. There were no dead spots on either side of the speakers and the center image was solid and fleshy. Staging from left to right, while not as 3 dimensional as certain costlier speakers, was continuous and solid. Instrument separation was good for this price point.
The treble produced by the Sierra-1's was almost never straining or piercing and most sounds came from a deep black space unless there was an excessive amount of air in the recording. From my experience the best sounding high end came from the solid state 100W amplifiers I paired the Sierra-1's with. The lower wattage of the tube amplifiers caused the highs to be a bit straining and thin even though mids and bass were pleasing. I'd further recommend pairing these with a powerful amplifier since the sensitivity is only 86db at 8ohms, and in my experience speakers within this relative sensitivity range benefit from a good bit of current.
On cymbal heavy music like God Speed You Black Emperor's "Yanqui U.X.O's" last track (beeping out track name for polite company), the cymbal crashing and experimental high pitched echoing guitar distortion that goes on for 10-plus minutes can easily grate the ears, but through the Sierra-1's the sound was a pleasingly mind melting experience. Plus everything up in that range sounded 'solid', and by that I mean the high end sounded like it had weight and body to it. It isn't porous or full of holes that wind and air creep into. Trumpets and saxophones had a solid body with a good amount of brass. On cuts 2 & 3 from the Ellington Indigos LP, Where or When and Mood Indigo, (Jazz Track Records D.L. 121-2009), the sibilance when the horns peak that can be harsh on some speakers but was tame with the Sierra-1s. Not overly tame, just enough to get the point across without being irritating. I've noticed that it takes a lot of money to get those horns right and I'd personally rather have a slightly tamed sound than the rough distortion I've heard on some speakers..
I tested the midrange of the speakers by switching out different power cables on the Elecompaniet PI-1 amplifier. I noted that both male and female vocals as well as mid range instruments, especially guitars and strings, had clean fleshy sound. With the help of the PS Audio PerfectWave AC5 power cable driving the Electrocompaniet PI-1, vocals tended to be slightly up front of the backing instruments. With using the Granite Audio #460 power cable on the Electrocompaniet PI-1 lows were larger and drum resonance was audible, highs had that Granite Audio sparkle to them and the mid range had better micro dynamics distinguishing guitar plucks or aggressive violin playing. And as noted with the previously reviewed PMC TB2i speakers, instruments and vocals, such as Sufjan Steve's John Wayne Gacy Jr., were all on the same plane. The Sierra-1's revealed the same single plane presentation. Hearing this similarity between the PMC TB2i ($2400) and the Sierra-1 ($948) is a good thing in my book. These are character attributes that I believe come from the power cables, amplifier, and so hearing the same changes with the TB2i's and Sierra-1's meant the Sierra-1's are transparent enough to be influenced by the backing equipment, especially in the mid range.
On the whole the mid range presented by the Sierra-1's has a full bodied and fleshy sound. Almost like you could reach out and touch the sound in front of you. It wasn't ethereal, it wasn't airy, it was solid.
The large dynamic range of Heifetz Concertos Tchaikovsky/Mendelssohn (RCA 5933-2-RC) came though wonderfully but timbre characteristics of the violin were not as distinguishable as they could be. As well, different acoustic guitars tended to sound similar and steel strings lacked that slight metallic ring. That said, I've yet to hear speakers under $2k that even start to get these details right.
The louder I played the Sierra-1's the better all the good stuff got. These really performed best at higher volumes and it was easy to conclude that they are pretty rocking speakers.
Where I had some issues with these monitors is in detail and a coherency between the upper bass and lowest bass. It seemed that the Sierra-1's and my room were not destined to pair well. There was a bass shelf, and when it would kick in there was a large amount of bloom and boom. Similar to what Andre Marc noted in his Aug '09 review at arrev.com, in that the speaker, "lacked detail and sounded the same from CD to CD.". But, I also noticed in my room the low bass was disengaged from the rest of the music. But there is a solution. Though the Sierra-1's don't come packaged with them, there are specially made bungs for the ports. This will solve this issue. I didn't try the special made bung, I used some I have at home to get an idea of how they would help, and they certainly do. So if you happen to experience this issue, please call or email David right away and get yourself a set of the special made bungs.
Because trying my own port bungs was not optimal and though I could tell a significant difference in tuning the speakers to the room, it did allow the speaker to operate at peak performance. The woofer is designed to work with a port and not a air spring enclosure, Ascend Acoustics designed two different port bungs to help augment the bass response in a room. These bungs allow a certain amount of leakage to keep the woofer operating at it optimal level while changing the performance of the port.
I would also agree with Andre Marc about the mid range detail but I suspect it's more dependent on backing equipment than his conclusions might infer. In the whole scheme of hi-fi audio, the Sierra-1 might not have the best mid range clarity but at this price point, and pretty far above, what they do offer certainly isn't anything to scoff at if paired with the correct equipment.
Next Page – Paired Components, Final Thoughts, Specs, Hot Deals on Sierra-1