The AQVOX Phono 2CI phono preamplifier is a surprise in a number of ways. I recall a lot of discussion about the high cost of "audio jewelry". This cosmetic feature added elaborate front panels and other adornments to audio components that may have added some sonic benefit but certainly added significantly to the cost. In recent years, I am seeing less of this extravagance in high end components. Most manufacturers are making gear that is very well constructed and nicely appointed, striking a good balance between offering gear that provides pride of ownership without unnecessary or overblown prettiness. I would rather pay less for quality and functionality than pay more for quality and functionality wrapped in eye candy.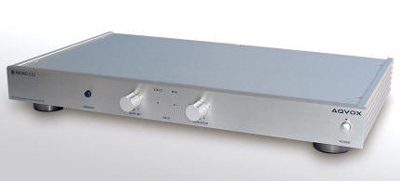 But I digress. The AQVOX Phono 2CI phono preamplifier is very well built, both inside and out. There is one internal adjustment to bypass the output coupling capacitors which are not needed if your preamplifier has DC blocking input capacitors. The top cover can be easily removed by first removing one of the extruded aluminum side panels. All of the cartridge and gain settings are changeable from the rear panel. The technology of the Phono 2CI is a departure from any other phono preamplifier that I know. Where others amplify the cartridge's voltage, the Phono 2CI amplifies the current. This reportedly results in an amplifier with lower distortion and noise. Interestingly, and as a welcome feature, no changes to loading are required to optimize the interface between the phono cartridge and the phono stage. Just connect your phono cable to the balanced inputs and you have a perfect interface. Just make sure that if you have RCA connectors on your phono cable, it is wired so that the shield is not grounded. This preserves the balanced signal from the cartridge – which being just a coil of wire is inherently balanced. AQVOX supplies specially wired RCA-to-XLR adapters if you need them. Standard RCA inputs with adjustable loading and gain are also provided. I tried these connections and found the balanced inputs to sound significantly better, moving the rating up the "LP Scale" about 2 LPs. That is a big improvement.
The Phono 2CI also offers balanced outputs on XLR connectors in addition to standard RCA outputs. With XLRs, you can have a balanced signal from the phono cartridge pins to your amplifier. I have always found a true balanced connection to sound better than the RCA alternative. Other features include settings for gain – up to 75dB, ground lift, input impedance and capacitance on the RCA inputs. The front panel offers separate gain knobs for the left and right channels. The purpose of these adjustments is to match the cartridge output to the Phono 2CI for the best sound quality to accommodate cartridges with outputs from 0.1mV to 3mV. This is adjusted for the best soundstage, tonality and dynamics. Although not intended for this purpose, I found that they are also capable of correcting channel-to-channel balance issues with a phono cartridge within a narrow range. They can also be used to match the overall phono gain to the gain of other components, again within a narrow range that does not adversely affect sound quality. The unit is available in black or silver.
| | | |
| --- | --- | --- |
| | | |
---
Specifications
Input Sensitivity at 1Vrms out-XLR:
RCA Input sensitivity: 2,4 – 12 mVrms/1 kHz
RCA Input sensitivity: + 6dB: 1,2 – 6 mVrms/1 kHz
RCA Input sensitivity: +20dB: 0,4 – 2 mVrms/1 kHz
RCA Input Impedance:
47 kOhm, switchable to:
1 kOhm and 100 Ohm
RCA Input Capacity:
47pF internal, switchable to:
+ 47pF, +100pF, +220pF, +470pF
The values add up to each other, summing up to max. 884pF
RCA Gain Factor:
maximum ca. 68dB
XLR Balanced Current Amplification Input:
The amplification at the XLR input is generally higher as at the RCA input, but varies depending on the output voltage and impedance of the Moving Coil cartridge. Providing 55-76dB gain, this input is suitable for all High-Output and Low-Output-MCs down to 0.10mV noise free. No step-up transformer required.
RIAA Equalization with Neumann Constant:
+/- 0,25dB
Front Control Input GAIN:
variable per channel +14dB
Subsonic Filter:
-9dB/10 Hz, -18 dB/5 Hz, -48 dB/2 Hz
THD + Noise:
1V out-XLR: 0.009% at min., 0.04% at max. MM-RCA-In
1V out-XLR: 0.019% at min., 0.09% at max. MC-RCA-In
Signal-to-Noise Ratio (S/N) IHF-A measured:
1V-Out-XLR-MM-RCA-In:
76dB Flat, 84dB A at min., 63dB Flat, 71dB A bei max.*
1V-Out-XLR-MC-RCA-In:
69dB Flat, 78dB A at min., 57dB Flat, 65dB A bei max.*
About 10Audio
10Audio content is shared with the consent of 10Audio. Don't know about 10Audio? Check them out. Here is 10Audio's hi-fi philosophy. "This site is by audiophiles for audiophiles. Our experience includes more than 30 years of audio sales, DIY, and consulting services. So if you are interested in another "qualified" opinion, please read on.You won't find any advertising so impartiality is assured. Sometimes it takes a while to post a review. Thank you for your patience. This site is BS-free, which, as you know, is an entirely relative statement." www.10Audio.com