High End Audio Video Equipment Sale Sound by Singer – New York City
2009-04-07 20:50:05 (GMT) (WiredPRNews.com – Featured Stories, Press Releases, Technology)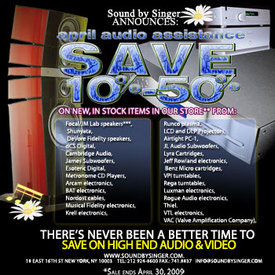 High End Audio Video Equipment Sale Sound by Singer – New York City
High End Audio/Video Retailer Offering Incredible Savings On High Fidelity Equipment
Andrew Singer, renowned audio/video specialist and owner of Sound by Singer, has announced that he is offering BIG SAVINGS on an array of high-end audio and video components throughout the month of April. Now is the time to for audiophiles and videophiles to take advantage of huge savings on some of the best products available today.
New York, NY – (WiredPRNews.com) — Andrew Singer, owner of Sound by Singer offering High End Audio – High End Video (www.soundbysinger.com), located at 18 East 16th St New York, NY, has just announced his company's April Audio Assistance Sale, running now through April 30, cutting prices on high-end equipment from some of the hottest names in audio and video.
Right now, customers can save between 10% to 50% Focal/JM Lab speakers, Shunyata, DeVore Fidelity speakers, dCS Digital, Cambridge Audio, James Subwoofers, Esoteric Digital, Metronome CD Players, Arcam electronics, BAT electronics, Nordost cables, Musical Fidelity electronics, Krell electronics, VTL electronics, VAC (Valve Amplification Company) electronics, Runco plasma, LCD and DLP Projectors, Airtight PC-1, JL Audio Subwoofers, Lyra Cartridges, Jeff Rowland electronics, Benz Micro cartridges, VPI turntables, Rega turntables, Luxman electronics, Rogue Audio electronics, and Thiel.
or more importantly check out Sound by Singer's site for more sales info.
source: wiredprnews