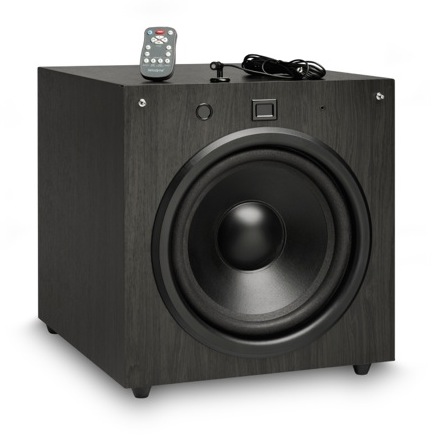 Velodyne Introduces EQ-MAX, the First Cost-Effective Subwoofer to Combine Remote Controlled Auto-EQ and High Performance Bass Production
New affordable subwoofer series features one-touch remote control setup, built-in processing, and advanced engineering to deliver dynamic bass performance
Morgan Hill, Calif. – September 8, 2011 – Velodyne, the world's leading manufacturer of powered subwoofers, has introduced the EQ-MAX Subwoofer Series, the first line of subwoofers at its price-point to feature remote control operation and built-in processing that enables users to maximize bass performance with the simple touch of a button. Available in 8", 10", 12" and 15" models, the budget-friendly EQ-MAX's rich feature set and advanced technologies combine to deliver high performance bass without the typical complications of system calibration.
"The new EQ-MAX subwoofer series offers a combination of high performance bass, Auto-EQ and other features never seen at this price point," said Bruce Hall, president of Velodyne Acoustics. "Made possible by Velodyne's 28 years of subwoofer innovation, EQ-Max's rich feature set and advanced technologies combine to deliver high performance bass, simply and affordably."
Velodyne's EQ-MAX subwoofers are easily integrated into any home entertainment systems thanks to the digitally controlled five-band equalizer. Users simply place the subwoofer in the preferred location, place the included microphone in the desired listening area and push the "EQ" button found on the included remote control. The built-in equalizer takes over utilizing Velodyne's Digital Signal Processing (DSP), automatically calibrating the subwoofer to deliver optimum bass performance that is unsurpassed.
In addition to the "EQ" function, the EQ-MAX remote control lets users control all of the subwoofer's functions with visible feedback on the front panel. The remote allows users to switch between a number of presets; set the sub to "Night Mode" to limit the output; illuminate the front display of the subwoofer; access phase adjustment to get the best possible match between the subwoofer and speaker system; and mute the subwoofer.
At the heart of the EQ-MAX series is Velodyne's newly designed, efficient, digital "Class D" amplifiers, which feature a switching-mode power supply. These amplifiers nearly eliminate the issue of wasting energy as heat, keeping bass peaks clean and dynamic. This easily enables the EQ-MAX to reproduce difficult, ultra-low frequencies such as explosions, pulsing drumbeats, or classical organ pieces.
EQ-MAX's powerful Class D amplifiers are complimented by four custom designed "Extended Excursion" drivers developed by Velodyne. These drivers are engineered with vented pole-pieces that increase power handling and assure long-term reliability and performance. The subwoofer's large, dual layer copper wound voice coils are specifically matched with massive magnets (4.66lbs – 10.14lbs) to provide dynamic bass listeners can actually "feel".
Velodyne's unique Distortion Limiting System is another key to EQ-MAX's superior sound performance. With digital precision, the subwoofer achieves maximum output from both the amplifier and woofer motor construction without the risk of overdriving; resulting in deeper bass extension, bigger impact and less distortion.
The subwoofer series includes an adjustable 40Hz-135Hz low pass crossover that allows the sub to match any home entertainment system speakers. Velodyne's "Subwoofer Direct" feature allows the EQ-MAX series to play the output of the LFE channel of a 5.1 or 7.1 channel receiver unaltered, assuring listeners the highest level of system performance without any degradation.
EQ-MAX's cabinets are engineered using a down-firing ported design, minimizing the audible distortion known as "port noise", while maximizing bass impact. Designed to blend beautifully into any setting, the EQ-MAX series is ideal for in-room or custom installation applications.
Retail pricing is set as follows:
EQ-MAX8 – 8" model – $479
EQ-MAX10 – 10" model – $579
EQ-MAX12 – 12" model – $679
EQ-MAX15 – 15" model – $979
For more information on the Velodyne EQ-MAX subwoofers, visit http://www.velodyne.com.
About Velodyne
Velodyne Acoustics, Inc., founded in 1983, is universally recognized as the leading manufacturer of high-performance, low distortion powered subwoofers at all price levels. Headquartered in Silicon Valley, California, the company's technically innovative audio products are available through a select group of authorized dealers, custom installers, and distributors worldwide. For more information visit www.velodyne.com.