There has been much anticipation for the release of the Marantz Blu-Ray player.  Lots of talk about it on the forums and around the web.  Mainly because the player will play Blu-Ray, DVD, and CDs, unlike most Blu-Ray players.  The player has been released, in all it's $1,999.99 glory.  Hope you still have your job.
- AudioReview
---
Those premium brands just love HD discs
Blu-ray fans, it appears, have lots of cash. How do we know this? Because traditional hi-fi brands like Denon and now Marantz are happy to ignore the credit crunch and flog Blu-ray players for megabucks.
The Marantz entry into this burgeoning canon of high cost, hopefully high-performance machines is the BD8002: a snip at £1800. (US$1,999,99)
So what makes the BD8002 so special? Well, for starters it's capable of decoding Dolby Digital Plus, Dolby True HD and DTS-HD Master Audio. Also, its HDMI 1.3a terminal supports 24fps, Deep Color and all raw high definition data; the video chipset is a hugely powerful 12-bit/297MHz affair; two SHARC DSPs are used for HD audio decoding; and there's a 10-bit Silicon Optix Realta processor for superior upscaling of your standard DVDs.
source: igizmo.co.uk
---
From Marantz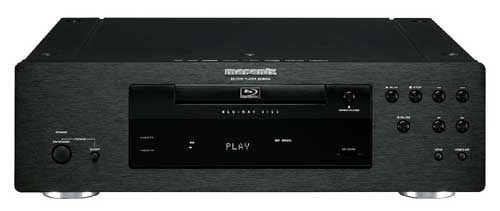 http://us.marantz.com/Products/2393.asp – product page
New formats mean new technologies. But new technologies don't make tried-and-proven design standards obsolete. That's why our new BD8002 Blu-ray/DVD/CD player is every bit a Marantz! From careful choice of internal components through painstaking circuit design and attention to human engineering, the BD8002 provides the performance and flexibility that have made Marantz a classic name in home entertainment.
HDMI 1.3a Output supporting 36bit Deep Color
10bit Silicon Optix Realta HQV Video Processor inluding video scaling up to 1080p, IP converter and 24fps output
Bit Stream HD Audio Output from HDMI
HD Audio Decoder for Dolby TrueHD and dts-HD Master Audio
Analog Devices 297Mhz/12bit Video DAC
7.1ch High Quality Analog Audio Output
RS-232C Terminal, IR Flasher In and the through Out for Custom Install Use