Featured Article from

Reviewer: Ed Momkus
Ed Momkus subjects the Aural Symphonics Chronos Interconnects and Hybrid v3 Speaker Cables to stringent examinations
On today's audio menu is a review of the Aural Symphonics Chrono interconnects and Hybrid v3 speaker cables. I had them for an extended period of time, and have been able to use them with three sets of monoblock amps, four preamps and two digital front-ends. I've had a great time playing with them used together and in mix n' match configurations with my Silent Source Silver Signature interconnects and speaker cables. This is a short review, because it doesn't take any effort to tell that these are very good cables. It hits you as soon as you put them into your system.
I didn't have much background knowledge on the Aural Symphonics when I received them, so I went to the Aural Symphonics website to see what the deal was. The following paraphrases the information from the website.
The Chrono interconnects. All Chrono conductors and connectors are cryogenic infusion processed. The positive conductor is an 8.0awg conductor configured as multiple un-insulated solid cores. The negative is a smaller conductor and there is no outer shield or crushed polypropylene fillers in the design. Aural Symphonics says that the Chrono achieves very low noise without any outer shield. They also cite as a benefit the fact that the absence of an outer shield eliminates the need for any additional resistive load on the ground conductor. Aural Symphonics claims that the Chrono is stable over long cable lengths, exhibits minimal effects on electronic component interfacing, and is appropriate with both vacuum tube and solid-state equipment.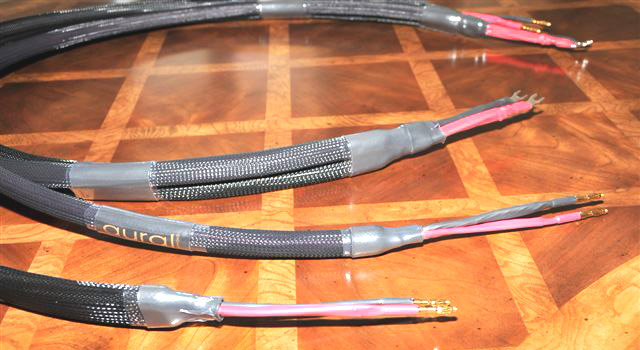 The Hybrid v3 bi-wire speaker cable. The Hybrid v.3 includes a conductor network specifically designed for low frequencies, and one conductor designed for the mid to high frequencies. Both stranded and solid-core conductors are used. This cable design is wound in a helical (cork screw) fashion allowing a precise configuration of the circuits inductive and capacitive values. According to Aural Symphonics, they chose conductors of varying types and diameters that were selected for their individual electrical merits, but combined to maximize performance as a whole. These differing conductors address the challenge of proper signal transfer from amplifier to bi-wired speaker. In addition to reproduction of air and body, they claim that the Hybrid v.3 is designed to enhance the amplifier's ability to control large diameter, low-frequency woofer drivers. The conductors at the amp end are bundled into a pair of spades, while the conductors at the speaker end are divided into two pair of spades – one pair for the bass and one pair for the mid and treble section of the speaker.
The price of the Chrono balanced interconnects is $1,570 for each of the two 1.5-meter pair, and $4,600 for the 5-meter pair, while the price of the 2-meter, bi-wired pair of Hybrid v3 is $2,800. These are obviously not cheap cables. As you would expect from the price, they should be high-end performers. So what do they do?
A Word from Aural Symphonics (www.auralsymphonics.com)

MSRP:Chronos interconnect (per pair) $1195/1m, $1570/1.5m, $1945/2m, $2320/2.5m, $2695/3mHybrid v3 speaker cable (bi-wire) $2200/1.5m, $2800/2m, $3400/2.5m, $4000/3mManufacturer:Aural Symphonics LLC.
13409 W. Solano Dr.
Litchfield Park, AZ 85340-7361
Tel: 602-550-3401
Email: auralsymphonics@cox.net
Web: www.auralsymphonics.com
About Dagogo.com
DAGOGO (pronounced "dah-go-go") is a U.S. high-end audio review monthly e-magazine established since November 2003. Its mission is to present both a macroscopic and microscopic view of the high-end audio hobby to its readers. Its contents include critical commentaries, industry personality interviews, specialty show coverages and music reviews. New articles are published on the 1st and 16th of every month. www.dagogo.com