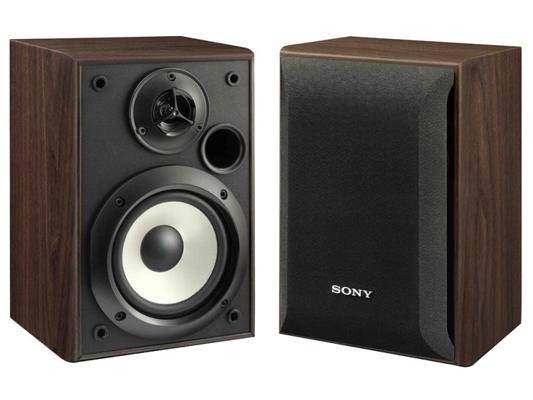 What You Need To Know About The Sony SSB100 Speakers
Specifications:
Newly developed 5.25″ H.O.P. cone woofer
1″ nano-fine balanced dome tweeter
120-Watt maximum input power
80-50,000Hz frequency response Impedance: 8 Ohms
The Sony SSB1000 hail back to the much loved and larger SSB3000 speakers that found their own little space in the audio world. The SSB1000 do a good job of bring that history back to life but in a smaller and more affordable package. These are standard passive speakers so you will need a receiver or amplifier to power these. While a powered amplifier or receiver of higher quality will surely make the SB1000′s sound better, Home Theater Review said that they performed very well on price matched gear.
The H.O.P. cone is not actually Kevlar re-enforced but Sony says H.O.P. cone material is stronger than most cone material used in this price bracket. The 5.25″ woofer and front port only allow the speaker to go down to 80Hz and that probably has a significant roll off to it, so pairing these with a subwoofer is a necessity if you are looking for all around balanced sound with some thump.
Home Theater in a Box – The SSB1000 can be used as either stereo mains or as home theater speakers. If you already have a HTiB set up that run off 8 Ohm impedance, some users have suggested replacing all those satellite speakers with these SSB1000 for a much improved home theater experience.
Room Size – These speakers will pressurize and thus sound better in smaller rooms. They will probably match best in a smaller house, apartment or bed room. Otherwise these might tend to sound too airy and weak in a larger room. Since as many listeners have noted they sound crisp, they might sound overly crisp or bright in a room with many reflecting points on the walls or floor.
How the SSB1000 Sounds -
Listeners have reported that the SD1000′s sound crisp, clean, and have a 'glamorous sheen' to them. The review from Home Theater Review backs up this analysis of their sound and notes, as do some users, that the bass is there and detailed but not boomy or over whelming. Â These aren't hip hop speakers.
As entry level consumer gear tends to have what is considered a 'colder' or 'crisper' sound to it, anyone looking for a warm and boosted mid range might want to stay clear of these. Â And though for home theater or Jazz, users find these very agreeable, Home Theater Review noted the sound could be a bit edgy with rock and electronic music. One can address some of these probably with Blue Jean Cable interconnects which will help increase the bass response, or pair these with a vintage amplifier, either solid state or tube (of high power), to get a mid range boost and nice high end roll off.
The speakers are said to create a large soundstage though it isn't that accurate. And while dynamic shift can be heard, the speakers don't crackle or pop on large shifts, they aren't that engaging.
But for $50 a set one might be hard pressed to find something better. With all 4 reviews on AudioReview being 5/5 and the greater sum of the 232 reviews on Amazon being 4 and 5′s out of 5, these Sony SSB1000 are most likely the best little gems to be found in the sub $50 price range.
Do you use the Sony SSB1000 speakers?
Let others know how they work for you.
Use the comments below or write a full review using the below links.
More Bookshelf Speakers from Sony >>
Search AudioReview forums for the Sony SSB1000 Main / Stereo Speaker >>
Featured Merchants
Popular Bookshelf Speakers