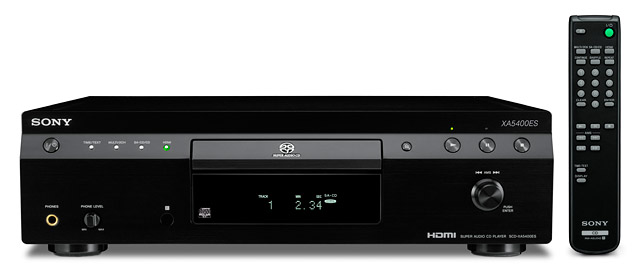 Reviewed by:

Jean-Luc

(AudioPhile)
Review Date September 3, 2010
Overall Rating
3 of 5
Value Rating
3 of 5
Used product for Less than 1 month
I was looking for an alternative for my aging Sony CDP XA50ES and although I had another CDP-XB930QS as backup, I defenately wanted a new player.
SACD is not that important to me as there are few SACD recordings – I own at maximum 20 SACD's – so the main reason for bying this player was CD playback.
I hooked up the player to a McIntosh C46 preamp, using the McIntosh MC252 power amplifier and the JBL Ti10k speakers. I used both balanced and unbalanced outputs.
I compared the sound with the Sony CDP-XB930QS.
First thing : somehow less bass but more definition in bass. The output must be about 0.2 Volt less as the unit plays just not as loud. Highs are OK, but I have the feeling the highs are not as correct as should be : some highs on different recordings seem to sound the same. That is something you won't like…
Mids OK, transparant sound, good dynamics but I have the impression it could be better.
Anyway, the unit plays good en in any way better than any other new CD player I have heard the last three to four years.
I did not have the impression I was listening to a digital source, so this is very good, but older QS and AS Sony players are as good for this too. Music was still attached to the speakers, soundstage between the speakers. Focussed. Not bad but not spectacular neither.
Over all, good sound for the money.
Though, I would not recommend it because there are a few things Sony didn't do well :
- The balanced outputs are not using the 'balanced' standard, because the volts output is the same as unbalanced, where it should be almost double. This means the balanced outputs are useless unless you crank up the volume to compensate.
- The reaction of the player when using the buttons is not instantaneous. We are used to this with a DVD player, but, please, not on a CD player. The jotter (AMS button) therefore is worthless unless you want to get frustrated : Turning the jotter only has effect about half a second later. This results in first thinking the button does noet work and then finding you have been turning way to far and having to correct several times till you get the right track.
This alone is a reason for not buying the player but if you can get over it, and don't need the balanced outputs, then, yes, it is a good player.
For sound quality it receives 4,5 stars though because of the issues with the balanced outputs and slow reaction, I con't give it more than 3 stars for overall performance. If you don't need SACD playback, get the cheapest Sony player and one of the affordable DAC's and you will end up with a better value I thing.
AudioREVIEW works best with your help. Write a review for others.  It might be a highlight!