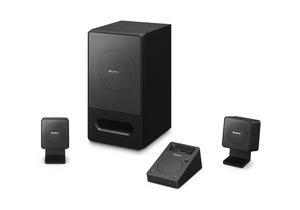 – Integrated 2.1 channel PC speaker system with dock for iPod / iPhone / iPhone 3G / iPhone 3GS
– Dock, charge, play and synchronise iPod/iPhone with iTunes
– Rich, powerful sound with 40W subwoofer and 2x10W satellite speakers
– Wireless remote commander
Fill the room with powerful, Hi-Fi Sony sound — whether you're using your PC or listening to your favourite iPod tunes.
Music, movies and games all sound great with the first 2.1 channel PC speaker system from Sony. Featuring a handy dock for your iPod, iPhone, iPhone 3G or iPhone 3GS, the SRS-GD50iP lets you enjoy Mac/PC or iPod sound sources whilst minimising desktop clutter.
Slip your iPod or iPhone into the stylish dock and charge your iPod's battery while you are synchronising with iTunes Library on your Mac or PC. Touch a button and switch effortlessly between PC/Mac, iPod/iPhone or other connected sound sources.
Whether you're enjoying music, movies or games through the computer speakers, you'll experience powerful, involving high-quality Sony sound.
Lower frequencies are handled by the 40W sub-woofer that features a large, long bass reflex duct for powerful bass. It's teamed with 2x10W satellite speakers to deliver a brilliantly detailed soundstage with crisp highs and smooth mids.
The stylish dock features convenient controls for power, volume, bass, synchronisation with iTunes and switch between the connected audio sources. Connections include a stereo mini plug for an MP3 player or other audio sources. There's also a headphone jack if you want to enjoy your favourite sounds in privacy without disturbing others.
Also included with the computer speakers, the handy remote commander controls power, mute, play/pause, volume, bass, song browse and select from iPod/iPhone, next/previous track and switch between the connected audio sources (iPod/iPhone, PC/Mac, MP3 or other source).
The SRS-GD50iP integrated PC speaker system/dock for iPod / iPhone is available now.
read about the specs and more details…
source: marketwire