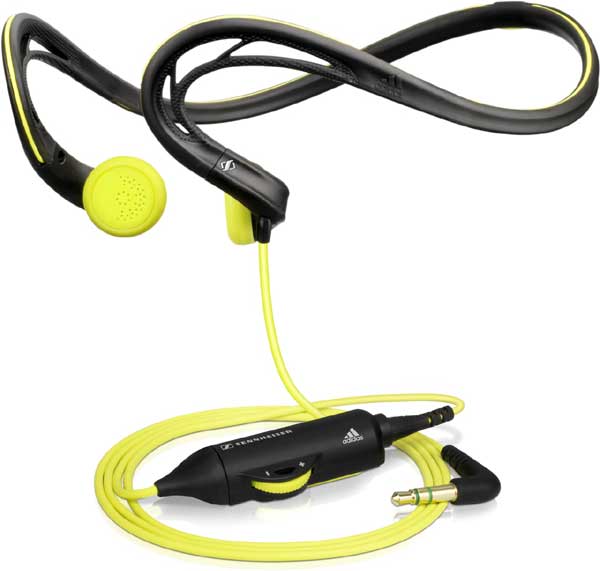 Sennheiser PMX 680 Headphones – What You Need To Know
Like to listen to music, Pod Cast, books on tape, while you workout? Sick of earphones that slip out when you sweat? Sick of headphones that don't stay in place while doing sits up or biking? Than the Sennheiser Adidas PMX 680 (680i) are what you are looking for.
Pros:
Ideal for sports since they are Sweat- and water-resistant.
Secure fit during workouts with their ergonomic neckband.
Acoustically more open to hear whats going on around you. Stay alert, stay safe.
Very strong cable using Dupont Kevlar.
680i Multifunctional EAC Remote Control developed to work with Apple products.
Very powerful and energetic sounding.
Cons:
One size fits all – fit can be an issue.
Controls/Mic can bounce around.
Finding good working out headphones/earphones can be a real challenge. After having so many slip out my ears, or even iPods break in bike crashes, I personally learned the joy is hearing what is around me. But if that isn't for you, and you have issues with your head headphone staying in place, try the Sennheiser PMX 680.
The new version, with yellow tips, are slightly louder than the previous orange and green versions. Plus they have been redesigned to be stronger in the arches around the ears.
Sound has been reported to be good but is not contained to you. Since these are acoustically more open so you can hear environmental activity around you, that means they are poor isolating headphones. Really these are work out headphones. Running, at the gym, cycling, but if you use at a quiet office will most likely bother your co-workers.
The PMX 680i are specially developed to control your iPod, iPhone, iPod Touch.  The PMX 680 will not work as seamlessly with an Apple product.
What To Watch Out For
It seems the biggest complaint about the PMX 680 is their fit. With the headband not being adjustable a lot of users have had fit issues. We strongly suggest you try a pair on before you buy. Also they stay in place by squeezing your head. If you are sensitive to pressure around the ears these maybe a very bad match for you.
Do you use the Sennheiser 680 heapdhones?
Let others know how they work for you.
Use the comments below.
More Headphones from Sennheiser >>
Search AudioReview forums for the Sennheiser PMX 680 Headphones >>