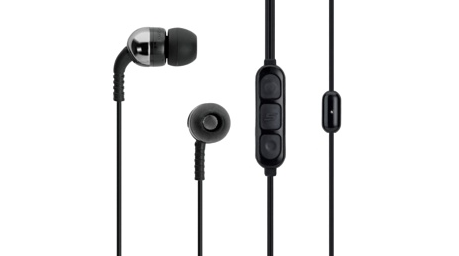 Scosche IDR305md Earphones – What You Need To Know
If the Beats by Dr. Dre have bass, than the Scosche IDR305md have rump shaking and thunderous bass. So if bass is your thing, and you only have a $40 price limit and want all the functionality of modern headphones, these are for you.
With the ability to control your music, movies, play/pause, next/previous, a built in microphone, voice command for iPad, iPhone, and iPods and VoiceOver that works with the 3rd-generation iPod shuffle, you can't ask for more. The controls are located further down on the cord than what Apple earbud users may be used to.
The Scoche IDR305md come with single-flanged silicone inserts of 3 different sizes to fit your ear best. A good seal makes for the best bass performance and noise isolation. So find the size that fits.
How Do The IDR305md Earphones Sound
Almost every reviewer has commented on the huge bass response. The more audio quality acute reviewers have said the high end sparkles but the mids are a bit blurry. No one has complained of listening fatigue or tinny and excessively bothersome highs. Most likely these headphones fit best with pop, rock, and hip hop. Classical and jazz will suffer greatly at the hands of a blurry mid-range and over powering highs.
Issues With The IDR305md
Many users have commented that the silicone ear inserts fall off the earbuds very easily and some have commented that the earphones break a bit too easily.  But really, earbuds break, can't do much about that irregardless of price.  You have to be gentle.
While audio quality out of the earbuds is better than the standard Apple earbuds that come with an iPhone, some users have said the microphone quality isn't as good. Â People have a harder time understanding all their articulations.
But if you have any issues Scosche customer service is getting rave reviews from users.
Do you use the Scoche IDR305md Earphones?
Let others know how they work for you.
Use the comments below or write a full review using the below links.
Popular Headphones