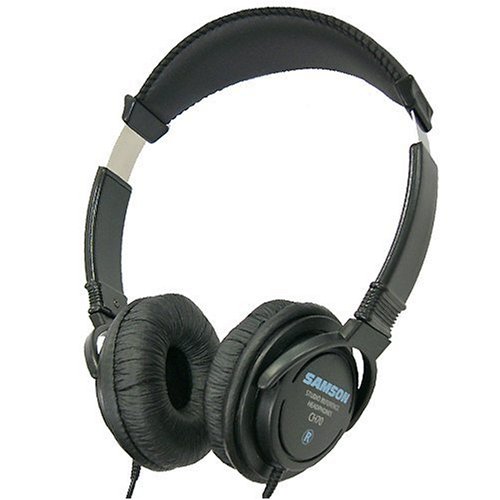 MSRP$ 39.00

Description: CH70 headphones are ideal for any listening and monitor application where critical sound reproduction is needed. The closed-ear design provides maximum isolation reducing unwanted bleed that can be picked up on live microphones. The CH70 employs exceptional 40mm drivers with ultra thin Mylar diaphragms and high-output neodymium magnets. The result is a wide dynamic range and linear frequency response from 20Hz to 22kHz for exceptional reproduction and a balanced sound making them a perfect choice for monitoring digital audio. The adjustable headband and lightweight design provide comfort and easy listening through the longest sessions.

1 Reviews
1 Quick Ratings
4.50 of 5
Reviewed by: Jon (AudioPhile)
Review Date April 21, 2011
Overall Rating
4 of 5
Value Rating
5 of 5
Used product for More than 1 year
Samson CH70 Review
I have had my CH70′s for a couple years now, and they continue to amaze me in the sound department. Bass is tight and hits hard, and you won't distort the low end response of these headphones unless you run them loud enough to permanently damage your hearing. They offer a very good, nicely detailed sound. They aren't a $200 set of Grados or an expensive set of Fostex reference phones, but they sound nearly as good to me, and they better ANYthing in their price range that I have tried. I own a couple sets of Sennheiser 440′s and a set of vintage Sennheiser 414′s, and these have much better bass response than either of my Sennheisers do.
It would be nice if they completely covered your ears instead of resting on them, but they aren't uncomfortable, so it's not an issue for me. I do have a minor complaint in that I can hear my CH70′s creak a little when I move, but mine are also going on 3 years old and have been used a LOT.
I am a semi-pro musician, I have a recording studio, and I play as a hired gun in the pit band for a local college's musicals, and my CH70′s have been my headphones of choice for those uses ever since I got them. They haven't ever let me down, and they've been used enough that I'm wearing the vinyl out on the ear pads, they are now peeling down to the cloth that's underneath them, so you can tell I have used them pretty heavily. I would buy them again without hesitation, and if you get a chance, you should too, if you're looking for an inexpensive set of on ear headphones.
Popular Headphones