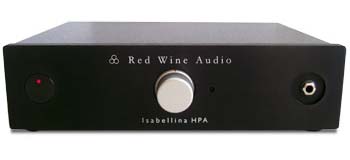 Red Wine Audio Unveils Industry's First Audiophile-class Battery-powered Headphone Amp/DAC Combo!
Two Highly-acclaimed Products United to Create Affordable Solution for Discriminating Headphone Users
August 19th, 2009 • Meriden, CT • Red Wine Audio, manufacture of battery-powered purest hi-fi components, unveils the Isabellina HPA integrated Headphone Amplifier and Digital-to-Analog Converter — combining their highly-acclaimed Isabellina DAC with the headphone stage originally developed for their award-winning Isabella vacuum-tube preamplifier. Featuring simplicity in design, coupled with use of high-current battery power, Isabellina HPA delivers a level of sonic performance not previously available to headphone users anywhere near this price.
Two highly acclaimed products. One cost-effective solution.
Introduced last year as a standalone DAC, the digital converter used in the HPA was initially designed to satisfy audio's most demanding users: High-end, two-channel audiophiles, where pricing is often secondary to their pursuit of sonic bliss. "For most headphone enthusiasts, the sonic improvement they experience listening to this class-leading DAC will bring smiles to their faces," says Vinnie Rossi, Red Wine Audio's President.
HPA's headphone stage has been engineered for music lovers. It couples warmth and tone, while uncovering subtle details and delicate spatial cues hidden deep within the music. This is the same headphone stage found in the award-winning Isabella vacuum-tube preamp. Features include:
· Premium Vcap capacitors — known for uncompromising sonic performance and long-term reliability
· Ultra-short signal and power paths — contributing to HPA's audiophile-grade performance
· A very low impedance output driver stage — allowing HPA to drive a wide range of headphone impedances with ease
A headphone amplifier that makes two-channel speaker systems sound better too!
HPA includes a full-featured Isabellina DAC, including RCA output jacks. Here's a case where the digital-to-analog converter in a headphone amplifier performs at a level worthy of driving the finest audiophile stereo systems. So HPA customers are only one interconnect cable away from enjoying class-leading sound from all their audio systems. "For anyone who has dreamed of getting a high-end source to bring their listening experience to the next level, HPA has them covered!" says Rossi.
HPA supports three types of digital inputs, including USB
Toslink (optical), Coax or USB, HPA covers them all. And users can easily switch between digital sources, allowing them to attach more than one device.
The sound
The Isabellina HPA delivers an emotionally involving musical presentation; producing music with great dynamics, accurate bass response and a "totally black" background. There's also an absence of harshness and listener-fatigue, since no high-frequency noise is passed to the delicate audio stages. "Thanks in part to the advantages of battery operation, this product readily competes with units costing two or three times its price," says Rossi. Web comments from early-release customers' agree…
Joe A., posted this on a popular headphone forum, driving $1,000+ Sennheiser HD 800s from his Isabellina HPA:
"…the soundstage continues to find me awed! I can't believe my long journey in search of the perfect amp, an all-in-one solution that sounds like the best tube amp you'll ever find, (has been) taken one step further with (the addition of an integrated) NOS DAC."
"…for the money I can't imagine trying to put something together that comes close to what the Isabellina HPA offers."
Volume shipments begin this month!
- Isabellina HPA $2,500 (Remote control included)
- Isabellina DAC without heaphone stage, available starting at $1,500
About Red Wine Audio
Red Wine Audio is the leading manufacturer of battery-powered stereo hi-fi components, meeting the needs of discriminating audiophiles and avid music lovers.
RWA's award-winning product line includes the Signature 30.2 stereo amplifier, Signature 70.2 monoblock amp, Isabella vacuum-tube preamplifier, Isabellina digital-to-analog converter with USB input, Isabellina HPA headphone amplifier / DAC with USB input, iMod modification for Apple's iPod, and purest hi-fi speaker cables and interconnects.
Vinnie Rossi, company founder, leverages the benefits of high-current SLA battery power so the entire line of audiophile stereo components run off-the-grid, resulting in an emotionally involving musical presentation. All products are proudly designed and manufactured in the USA.
Red Wine Audio • 50 High St., Unit 2B • Meriden, CT 06450 • USA
Tel: (203) 440-4944 (8AM to 5 PM EST M-F)
www.redwineaudio.com
Detailed Description
http://www.redwineaudio.com/products/isabellina_hpa
source: Red Wine Audio Press