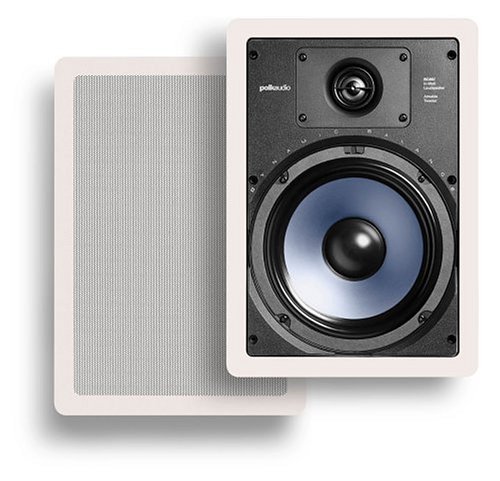 Polk Audio RC85i In-Wall Speakers – What You Need To Know
Looking for that flush In-Wall speaker that sounds really good, won't break your budget, and give your home something most of your friends don't have, a bit of wealth and class? Well the Polk Audio RC85i In-Wall speaker will do that.
With a very similar sonic signature to the Polk Audio RC80i (round in-ceiling speakers), the RC85i sound good. Clear highs, warm mids, and good bass. In fact just the other morning I was at a coffee shop on San Pablo Ave in Berkeley that had these installed and I was amply impressed with how they filled the room. And with the 15-degree swivel tweeter you'll be able to aim the sound right at your listening sweet spot. Though these have great dispersion and great a great stage for home theater surround sound.
Other features of the RC85I include:
8-inch dynamic-balance, mineral filled polymer-composite cone.
Frequency response: 30Hz – 20kHz.
1-inch dynamic-balance, metalized soft dome tweeter
Made of durable, moisture-resistant materials for use in wet places or outside.
With 96 ratings on Amazon and a 4.5 of 5 average and 6 ratings on AudioReview with a 4.35 average it is hard to see how these can't please anyone except the most stubborn of audiophiles. Who might complain about the linearity of the speaker or the staging, but hey, these are about fun and pleasing sounds, not $100,000 reproduction.
With summer time coming it is always great to get some sound in the back yard or porch. All you have to do for the RC85i is to cut a square in the wall, (easy) and run the speaker cable to it and you are done. Polk has made either in-ceiling/in-wall speakers extremely easy to install. Seriously, impress your friends and family with the architectural beauty of in-wall speakers and know how easy and affordable it was.
More Inwall Speakers from Polk Audio >>
Search AudioReview forums for the Polk Audio RC85i >>
Featured Merchants