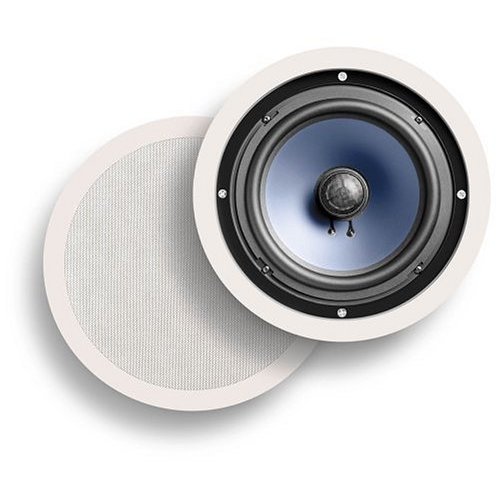 Polk Audio RC80i Speakers – What You Need To Know
The RC80i are the 8-inch version of the Polk Audio RC60i speaker. Offering better low end response and mid range clarity. Both are fantastic speakers with extremely positive ratings from users on Amazon.
The RC80i isn't just an in-ceiling speaker, it can be used in-wall as well. It is timbre-matched to the Polk Audio RTi Series but works well with a variety of speakers. User who have mixed and matched their home theater set up say they have not heard any major pairing issues. The RC80i is equipped with an 8-inch dynamic-balance, mineral filled polymer-composite cone and has a one 1-inch dynamic-balance, metalized soft dome tweeter with 15-degree-swivel mount. That means you can position the tweeter to the correct sweet spot in your listening room.
With a frequency response of 35Hz – 20kHz the RC80i is sure to offer a fair amount of bass but you'll still want a 12-inch or larger sub if you are looking for that rattling that will loosen your molars. The RC80i's are constructed of moisture-resistant materials so they can be used in bathrooms, saunas, or out doors under some protection. The are very durable and can handle some abuse.
The speaker comes with template for cutting the correct size whole in your wall or ceiling. Everyone agrees these are very easy to install. But the grill is a little difficult to remove. User William C Belivins suggest this method instead of the paper clips that Polk Audio suggest. "There are four clamp-screws that need to be accessed from the front. Use these four screws to gently push the grill out from behind. Once you get the grill out a quarter-inch, you can peel it out the rest of the way from the front."
How Does The Polk Audio RC80i Sound?
Smooth and clear mids. Clean, crisp, easy to listen to highs, and a good deep lower mid range. The RC80i's appear to be very pleasing and easy to listen to.
The RC80i will work well in medium to large rooms. If you are considering in-wall or in-ceiling speakers, with the RC80i overwhelming positive reviews, and their price… it will be hard to go wrong.
Do you use the Polk Audio RC80i In-Wall/In-Ceiling Speakers?
Let others know how they work for you.
Use the comments below or write a full review using the below links.
More Inwall Speakers from Polk Audio >>
Search AudioReview forums for the Polk Audio RC80i >>
Featured Merchants