New Receivers Feature Proprietary Sound Enhancement Technologies for Compressed Audio Files and are iPod/iPhone Compatible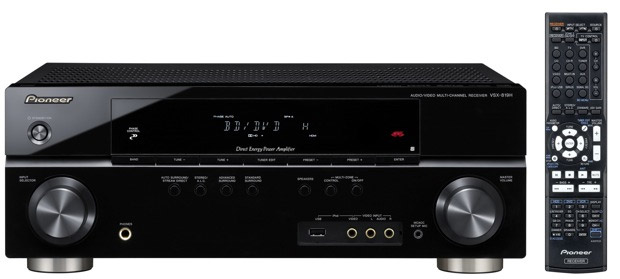 Pioneer Electronics (USA) Inc. today announced that it is now shipping A/V Receivers that seamlessly integrate Apple's revolutionary iPhone and iPod into a customer's home theater. Pioneer's VSX-819AH, VSX-919AH and VSX-1019AH A/V Receivers and also feature proprietary technologies designed to restore compressed audio data and recreate the dynamic listening experiences intended by the original musician.
read more and find out about the Pioneer VSX-919AH and Pioneer VSX-1019AH.
| | | | |
| --- | --- | --- | --- |
| | VSX-1019AH-K | VSX-919AH | VSX-819H-K |
| Suggested Price: | $499.00 | $399.00 | $299.00 |
| Power Amplifier Design | Hybrid (Advanced Direct Energy) | Hybrid (Advanced Direct Energy) | Discrete (Advanced Direct Energy) |
| Surround Power | 120 x 7 | 120 x 7 | 110 x 5 |
| Channels | 7 | 7 | 5 |
| THD | 1kHz w/0.05% THD @ 8 ohm | 1 kHz w/0.05% THD @ 8 ohm | 1 kHz w// 0.05% THD @ 8 ohm |
| MCACC Speaker Calibration | Advanced | Advanced | Auto |
| Symmetric EQ | Yes | Yes | Yes |
| Standing Wave Control | Yes | Yes | No |
| Phase Control | Yes | Yes | Yes |
| EQ Bands | 9 | 9 | 5 |
| Calibration Memory | 6 | 6 | 1 |
| X-Curve Compensation | Yes | Yes | No |
| Digital Engine | Freescale | Freescale | Aureus by Texas Instruments |
| THX Certified | No | No | No |
| Dolby TrueHD | Yes | Yes | Yes |
| Dolby Digital Plus | Yes | Yes | Yes |
| Dolby Digital EX | Yes | Yes | Yes |
| Dolby Digital 5.1 | Yes | Yes | Yes |
| Dolby Pro Logic IIx | Yes | Yes | Yes |
| DTS-HD Master Audio | Yes | Yes | Yes |
| DTS-HD High Resolution | Yes | Yes | Yes |
| DTS-ES | Yes | Yes | Yes |
| DTS-Express | Yes | Yes | Yes |
| DTS 96/24 | Yes | Yes | Yes |
| DTS NEO:6 | Yes | Yes | Yes |
| DTS 5.1 | Yes | Yes | Yes |
| PCM via HDMI | Yes | Yes | Yes |
| WMA9 Pro | Yes | Yes | No |
| XM HD Surround | No | No | No |
| Neural THX | Yes | Yes | No |
| HDMI SACD Transfer | Yes | Yes | Yes (2-Channel) |
| HDMI DVD-Audio Transfer | Yes | Yes | Yes |
| SD Video Adjustment | Yes | Yes | No |
| HDMI 1080p Video Upscaling | Yes | No | No |
| HDMI 1080p Video Repeater | No | Yes | Yes |
| Digital Video Converter to HDMI | Yes | Yes | No |
| PureCinema I/P Converter | Yes | Yes | No |
| Deep Color | Yes | Yes | Yes |
| xvYCC | Yes | Yes | Yes |
| Aspect Ratio Adjust | Yes | Yes | Yes |
| Auto Surround | Yes | Yes | Yes |
| Stream Direct | Yes | Yes | Yes |
| Auto Level Control | Yes (Multi-Channel) | Yes (Multi-Channel) | Yes (2-Channel) |
| Advanced Surround Modes | 13+1 | 13+1 | 8+1 |
| Front Stage Surround Advance | (Focus/Wide) | (Focus/Wide) | (Focus) |
| Headphone Surround | Yes | Yes | No |
| Virtual Surround Back | Yes | Yes | No |
| Dialogue Enhancement | Yes | Yes | No |
| Sound Retriever | Advanced (Multi-Channel) | Advanced (Multi-Channel) | Yes |
| Midnight Mode | Yes | Yes | Yes |
| Loudness | Yes | Yes | Yes |
| Tone Control | Yes | Yes | Yes |
| Sound Delay (Lip-Sync) | Yes | Yes | Yes |
| PQLS (Music CD) | Yes | Yes | No |
| Digital Noise Reduction | Yes | Yes | No |
| HDMI In | 4 | 3 | 3 |
| Works with iPhone/iPod | Digital USB w/ OSD & Album Art | Digital USB w/ OSD & Album Art | Digital USB w/ OSD |
| Made for iPod | Yes | Yes | Yes |
| Component Video In / Monitor Out | 2/1 | 2/1 | 2/1 |
| AV In / Rec.Out | 3/1 | 3/1 | 3/1 |
| Audio In / Rec.Out (inc. tuner & front) | 4/1 | 4/1 | 4/1 |
| XM Satelite Radio | No | No | No |
| Sirius Satelite Radio | Yes | Yes | Yes |
| Digital Coaxial Input | 1 | 1 | 1 |
| Digital Optical Input / Output | 2 | 2 | 2 |
| Analog Multi-ch input | 5.1 | 5.1 | 5.1 |
| Preamp Output | Sub | Sub | Sub/Surround Back L/R |
| Front Audio Mini Jack | No | No | No |
| Headphone Out | Yes | Yes | Yes |
| Speaker A/B | Versatile Configuration | Versatile Configuration | Versatile Configuration |
| Multi-Room | 2-Zone A/V | 2-Zone A/V | 2-Zone Audio |
| iPhone Zone 2 | Yes | No | No |
| IR In/Out | Yes | Yes | Yes |
| On-Screen Display | Color (w/ 2nd Zone) | Color | Yes |
| SR | Yes | Yes | No |
| Display Dimmer | Yes | Yes | Yes |
| Zone 2 Speaker | Yes | Yes | No |
| Function Rename | Yes | Yes | No |
| Sleep Timer | Yes | Yes | Yes |
| Front A/V Terminals | Yes | Yes | Yes |
| AM/FM Preset | 30 | 30 | 30 |
| AM/FM Station Rename | Yes | Yes | Yes |
| Volume Limit Setup | (Off/Custom) | (Off/Custom) | (Off/Custom) |
| Remote Control Type | Luminous Preset | Preset | Preset |
| Multi-Operation | Yes | Yes | No |
| Finish | Gloss Black | Gloss Black | Gloss Black |
| Symmetrical Power Train | No | No | No |
| Advanced Direct Construction | No | No | No |
| Trans. Stabilizer | No | No | No |
| Speaker Terminals | Large | Large | Large |
| Dimensions (inches) | 16 9/16 x 6 1/4 x 13 3/4 | 16 9/16 x 6 1/4 x 13 3/4 | 16 9/16 x 6 1/4 x 13 3/4 |
| Weight | 19 lbs 3 oz | 19 lbs 3 oz | 19 lbs 14 oz |
| Warranty | 1 Year | 1 Year | 1 Year |
source: eCoustics