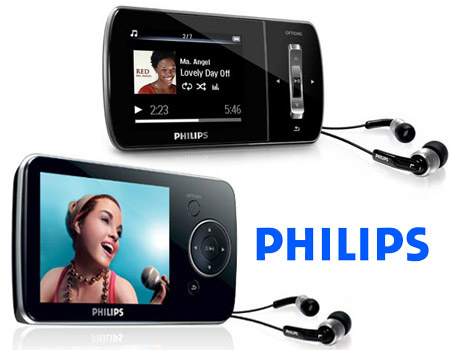 For superior sound quality on-the-go, Philips launched this month a new range of GoGear portable audio and video players.  With 6 brand new models, there is now an extensive range to choose from that promises superb sound reproduction and great all-round value.
The new flagship Philips GoGear Opus portable audio and video player boasts a 16GB, 2.8 inch QVGA color screen that can record online videos directly from the PC.  The Philips GoGear Aria is an 8GB version that comes with a 2 inch color display.  Both these players come bundled with a pair of high definition sound isolation earphones that deliver audio performance normally reserved for more expensive players.  For ultra-portability, the Philips GoGear ViBE is an 4GB audio and video player that comes equipped with a 1.5 inch full color display.
Completing the new range are the Philips GoGear audio players, Spark, Luxe and Mix. The Philips GoGear Spark is a matchbox-sized 4GB music player that has a 1.46 inch OLED color screen to show off album art or photos, while the Philips GoGear Mix comes with a 4GB memory with push-out USB to make file transfer a snap and Philips GoGear Luxe switches from music to calls.Philips FullSound Technology
The Philips GoGear Opus, Aria, Luxe and Spark all feature Philips' innovative FullSound technology which faithfully restores sonic details to compressed MP3 music, dramatically enriching and enhancing it, so users can experience music the way is was meant to be.  FullSound combines Philips' renowned expertise in music reproduction with the power of the latest generation Digital Signal Processor (DSP) that analyzes the sound track ten million times per second to restore the original sound experience. The result is fuller bass with more depth and impact, boosted voice and instrument clarity, and rich detail.
Internet Video Download
Another innovative feature found in the GoGear Opus, Aria and ViBE is the Internet Video Download.  This easy-to-use feature enables video downloads from video sharing sites such as Youtube, MySpace or Google Video directly to the GoGear.
Philips GoGear Opus
For a top-of-the-line portable audio and video player with the works, the Philips GoGear Opus meets all criteria.  This flagship player from Philips comes with a large 2.8 inch QVGA color screen that lets users enjoy their favorite videos comfortably in the palm of their hand.  And with 16GB storage capacity, users will enjoy hours of video entertainment.
For superb audio quality, the combination of Philips FullSound technology with the in-box high-definition headphones allows users to hear and enjoy greater music details at a lower volume than is possible with normal headphones.  The ergonomically designed headphones feature Philips Angled Acoustics technology to direct music more precisely within the curvature of the ear canal, while the three sizes of interchangeable ultra-soft silicon ear caps provide both exceptional comfort and excellent noise isolation.
True to Philips' promise of simplicity, all Philips GoGear products are easy to use and experience.  With the Internet Video Download and SuperScroll feature, operating the GoGear Opus is almost child's play. Users can enjoy up to 30-hour music or 6-hour video playback within a single charge.
Philips GoGear Opus is priced at AED 599(16GB)
Philips GoGear Aria
The GoGear Aria offers a more compact package to the flagship GoGear Opus with its 2 inch full color LCD screen display and 4GB of storage memory.  It also comes equipped with FullSound technology, Internet Video Download and a pair of high-definition headphones.
During music playback, the screen displays all of the information needed, showing six lines of text and full-color album art. The large screen is of course of great convenience while watching movies, downloaded from the Internet with the supplied software. An intuitive control system with a large rocker key makes navigation quick and easy.
Philips GoGear Aria is priced at AED 399 (8GB)
Philips GoGear ViBE
The GoGear ViBE packs big entertainment in a superbly small design.  Its 1.5 inch full color display shows off videos and videos admirably.  And with smart features like Album Art – which displays album artwork embedded in the music files – users can have a richer and more enjoyable music experience.
Other handy features include an RDS FM tuner with 20 presets as well as a built-in microphone with the option for voice or radio recordings direct to the internal storage.
Philips GoGear ViBE is priced at AED 299(4GB).
Philips GoGear Spark
Don't be fooled by its cute and diminutive size.  The square-shaped GoGear Spark packs quite a punch on the audio front!  Powered by Philips FullSound technology to enhance the dynamics, bass, treble and stereo imaging of highly compressed MP3 files, users can enjoy up to 27 hours for audio bliss on a single charge with this pocket MP3 dynamo.
Consumers' visual senses will also be delighted by the Album Art feature on the backlit OLED color screen which displays the Album sleeve cover of the music track as it plays.
Philips GoGear Spark is priced at AED229 (4GB)), available in two colors – Gold and Black.
Philips GoGear Luxe
Connect to your music and calls MP3 player with Bluetooth® headset Clip and click to always stay tuned and connected!
The chic Philips GoGear Luxe digital audio player fastens as an accessory and switches from music to calls on your Bluetooth mobile phone – and displays Caller ID – with one touch. Philips GoGear Luxe is   small and stylish – like a fashion accessory and comes with the same headset for music and phone calls: in one click you switch to your Bluetooth enabled mobile phone. With up to 4-hour talk time and 100-hour standby time and Up to 10-hour MP3 and WMA music playback* plus FM radio for superb music pleasure,  FullSoundâ"¢ bring CD listening experience to MP3 and music shuffle for ultimate convenience.
Philips GoGear Luxe is priced at AED349, available in red color.
Philips GoGear Mix
The compact GoGear Mix features a push-out USB making file transfer a snap – no cables required.  Enjoy easy, intuitive navigation on the full color display and up to 25 hours of music playback with its built-in battery.
Other snazzy features include an FM radio with 20 presets for more music options, equalizer to suit all music preferences and a voice recorder function to take notes and record any conversations anytime, anywhere.
Philips GoGear Mix is priced at and AED169 (2GB), available in two colors – Black and White
All products mentioned above can be purchased at leading electronic retail outlets across Middle East.
About Royal Philips Electronics
Royal Philips Electronics of the Netherlands (NYSE: PHG, AEX: PHI) is a diversified Health and Well-being company, focused on improving people's lives through timely innovations. As a world leader in healthcare, lifestyle and lighting, Philips integrates technologies and design into people-centric solutions, based on fundamental customer insights and the brand promise of "sense and simplicity". Headquartered in the Netherlands, Philips employs approximately 116,000 employees in more than 60 countries worldwide. With sales of EUR 26 billion in 2008, the company is a market leader in cardiac care, acute care and home healthcare, energy efficient lighting solutions and new lighting applications, as well as lifestyle products for personal well-being and pleasure with strong leadership positions in flat TV, male shaving and grooming, portable entertainment and oral healthcare. News from Philips is located at www.philips.com/newscenter.
source: www.albawaba.com