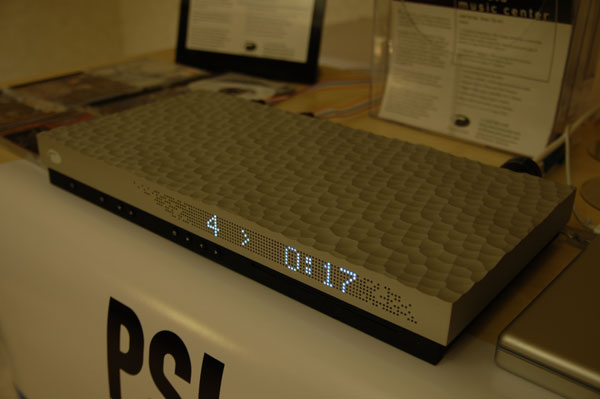 The Cantata CDP and Media Player – Probably the best looking media server we've seen yet.  The electronics on the inside are mounted to that amazingly etched roof to dissipate heat.  The white LEDs are clear enough to see across the room with out being blinding.  You can have on in your own home for $6k.  Resolution Audio also does a neat trick with ethernet to USB converter, there for separating the galvanic grounding of your media server and computer.  To find out more visit: www.resolutionaudio.com
PS – if you don't want one yourself but are kindly enough, you can always have one sent my way.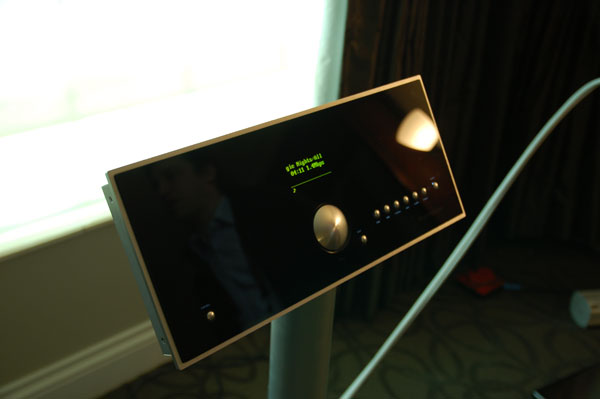 The Sonneteer Morpheus Music Centre (British you know – and hey – didn't the Matrix ruin this word for you already? I can't say Morpheus with picturing Lowrance Fishburne myself) – We loved the look of this as well.  Very simple and clean design.  Didn't much care for the stand it was presented on but thankfully you can just place it atop a desk or dresser.  It is a 100W digital amplifier along with network streaming, WIFI, ethernet, will playback USB memory sticks and works with iPod/iPhone.  It pretty much has all the modern gizmo's you'd want.   Apparently there is an iPhone controlling app that might not be that easy to use.  The partnering rep from Pen Audio had trouble with getting it to do what he wants.  But, heck, there is so much going on at a show – he really probably just picked it up and started to use it the day we walked in. Find out more @ www.sonneteer.co.uk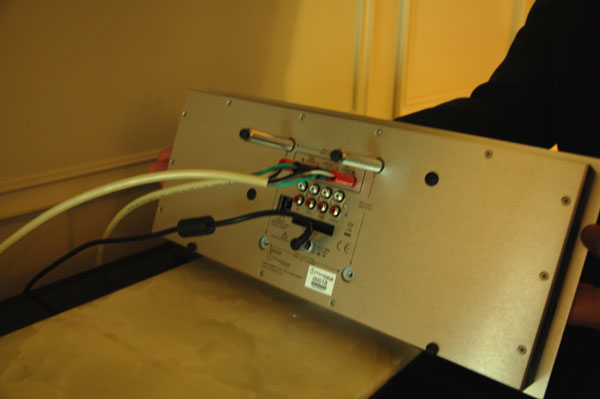 Backside of the Morpheus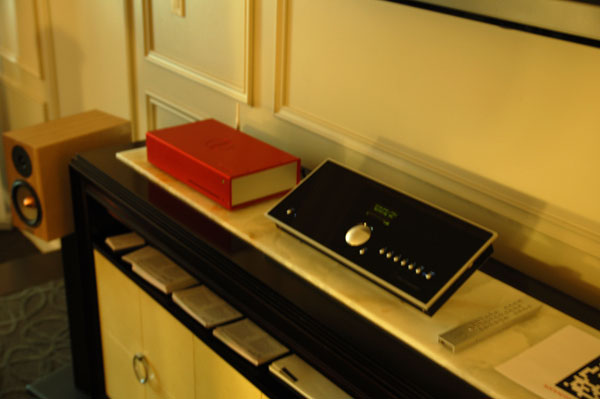 Next to the Morpheus is it's partnering media storage unit. Â And off the side are the Pen Audio speakers from Finland. Very nice sounding speakers. Â The whole system actually sounded very nice. Â Find out more about Pen @ www.penaudio.fi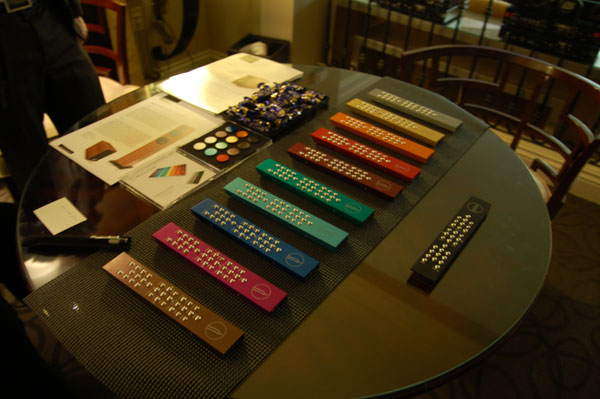 Color options for the remotes. Â I believe you can get the media storage in a matching color. Â Nice colors actually. Â Good job guys.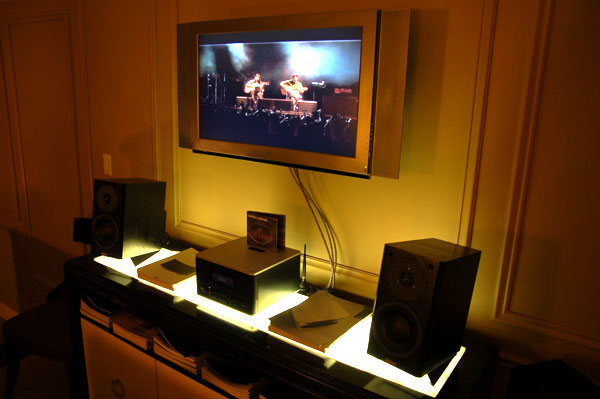 Dynaudio was showing with a German company called T+A.  In the middle here is the Caruso, a compact multi-source complete 'hi-fi' system.  The Caruso has built in speakers and sub, each running at 50W.  But it also has pre-outs and sub-out if you'd like to integrate it with a larger system.  It has all the component gizmo's  you would expect from a modern media server.  Hooks up to iPod/iPhone/Ethernet/USB.  It also has video out and SClink.  It is actually a pretty much all in one unit one would need for a bedroom or small apartment.  Pretty smart.  But I don't know how it sounds.  The room was focused on other systems when I was in there. Find out more @ www.TAelektroakustik.com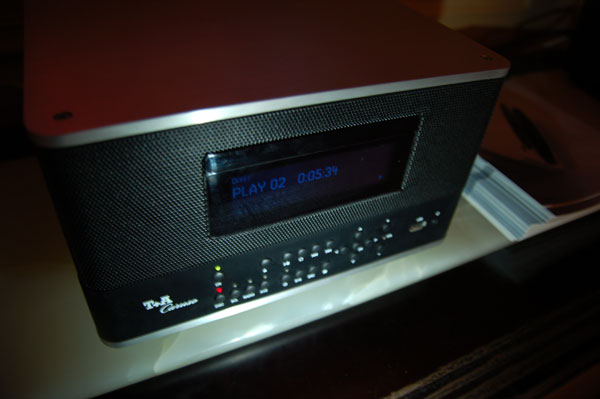 Close up shot of the Caruso – sorry it is a bit blurry.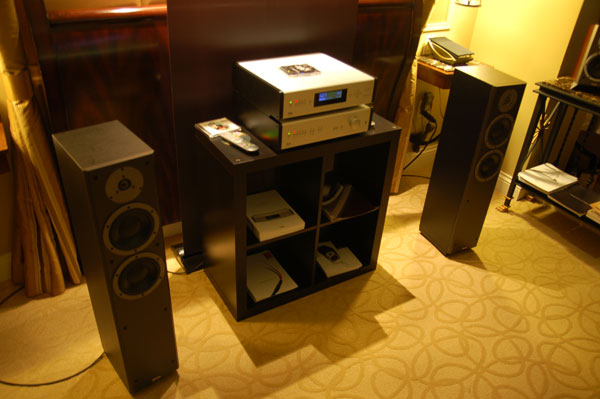 In the middle there is E-Series which has, if you want more power and better sound than the Caruso, and integrated amplifier on the bottom and you can either choose a CDP or Media Server to go on top.  At 140W at 8Ohms the integrated amplifier can definitely rock your room.  The media server connects too all your gear.  iPod/iPhone, computer, streams music, and FM radio.  Nice looking components that are definitely worth a listen if you are looking for a media server.  This one can also be controlled via your browser on your computer.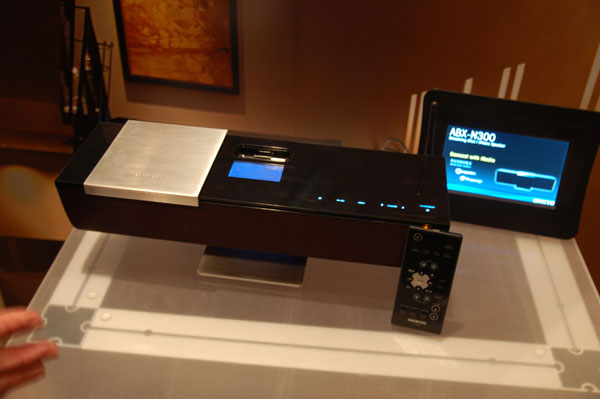 The Onkyo ABX-N300 – product not released yet – but basically a media server with iPod doc.