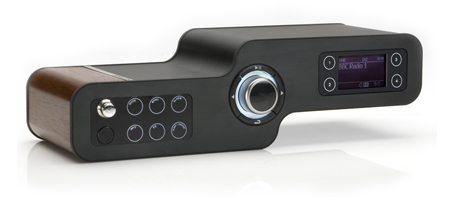 Monitor Audio Airstream 10 DAB Radio Up For T3 Gadget Awards 2009 'Drop Dead Gorgeous Gadget Of The Year' Title
Designed in Britain, the Airstream 10 radio from Monitor Audio is a feast for both the eyes and ears. Its retro design is highly desirable and the cool luxury looks are specifically designed to bring a touch of style to any interior.
The 'Drop Dead Gorgeous Gadget of the Year' category is voted for by the public and you can cast your vote for the Airstream 10 here http://awards.t3.com
The Airstream 10 has been chosen because in the words of T3's award panel,
"Internet radios and DABs tend to go down two differing design routes: retro chic or bland modern boxes. The Airstream 10 does neither, instead opting for a curvy, modern tech-chic look that makes it less a box of electronics and more a living room centre piece. The only question is: which way up looks best?"
As gorgeous as the Airstream 10 is, it's not just a pretty face. Packed full of ingenuity the radio matches the power of the Internet with a truly user friendly interface. AirStream 10 lets you experience over 15,000 Internet radio stations, global music services and every music file on your home network. It even reaches into analogue to give you FM with RDS and full digital DAB; it also offers a way to plug in your MP3 player and hi-fi system.
About Monitor Audio
Monitor Audio is a wholly British owned designer and manufacturer of high quality and award winning range of loudspeakers. Since 1972 Monitor Audio has been world's leading exponent and innovator of metal driver technologies. It is world-renowned for exemplary performance, construction and finish. Whatever your taste and budget, you'll discover a Monitor Audio product that, with a combination
of superior design and build, answers your desire for great sound. Since hi-fi was in its infancy, Monitor Audio has dedicated all their technical expertise, innovation and craftsmanship to the creation of world-class loudspeakers, which says everything about the brand and the people who own it.
For more information on the complete range of Monitor Audio loudspeakers, contact: Monitor Audio Ltd, 24 Brook Road, Rayleigh, Essex. SS6 7XL. Tel: +44 (0) 1268 740580, Fax: +44 (0) 1268 740589,
E-mail: info@monitoraudio.co.uk, http://www.monitoraudio.co.uk
source: www.mi2n.com