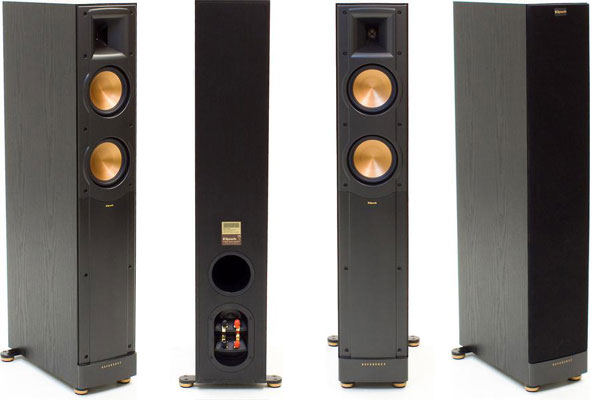 Pros:
One of the best sounding speakers for its price.
A power house in the low end
Detailed and dynamic mid-range and highs
Damn good looking
Affordable

Cons:
May make you upgrade your receiver/amplifier if you have one.
Imaging is fantastic for the price but isn't as spot on as higher end speakers
The Klipsch RF-52 II speaker is legendary. It has received high reviews from everyone, every website, and every magazine. If you have a sub $1000 budget for new speakers, want some power house floorstanders, than these should be on your short list.
Developed in 1946 and continually advanced since, the Klipsch horn tweeter might be the most famous piece of audio equipment. The RF-52 II is a benefactor of years of development and it doesn't let down. The 1-inch Titanium diaphragm compression driver that sits in a Tractrix® Horn surround is dynamic, lively, and offers a sound quality well above its price point. The highs are crystal clear and every extended. Some have even said it boarders on being to precise and can expose poorly recorded material for what it is.
The bass reflex cabinet is rear ported and houses dual 5.25-inch Cerametallic cone woofers that are anodized in a stylish copper coating. The mid-range is open and clean and it is flat out amazing that Klipsch is able to get a coherent bass all the way down to 36Hz from this speaker. Â  For best sound it is suggested that the speakers be placed about 2-feet from the rear wall. Â But each room is different so you should experiment.
The cabinet is solid and well made and the laminate is second to none at this price point.
The RF-52 II sound good in both the home theater and stereo audio set up. Â If you do run them in a home theater you'll most likely want to get a subwoofer for that floor rumbling bass. Â While these do go extremely low the desirable umph in explosions isn't there.
If there is one issue to be had it is that the imaging isn't a precises as one would hope. Â Not that it is bad, but this is the one sonic attribute that doesn't get that sot after 5th star.
One also shouldn't be afraid to pair these speakers with higher quality electronics.  Unlike a lot of speakers in the $7-800 range, the Klispch will absolutely benefit from better backing electronics.  NAD, Adcom, Acram, Denon or even some classic 70′s gear would pair well.  Since the RF-52 have a relatively high sensitivity they are easy to drive.  You'll find that 40W from a good amplifier will do these speakers wonders. So check the used market for some classic gear and let your ears thank you.
Do you Own a pair – let others know what you think – use the comments below.
More Floorstanding Speakers from Klipsch >>
Search AudioReview forums for the Klipsch RF52 II >>