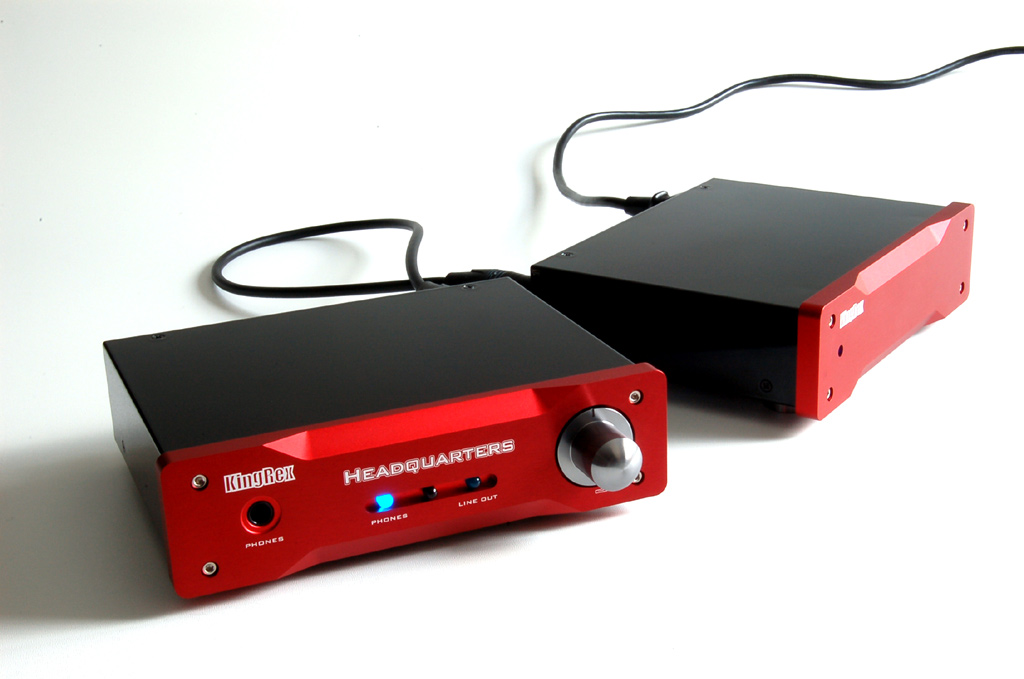 Specifications:

Input Impendence: 15k Ohm
Output Impendence: 1.8 Ohm
Gain : 18.5dB
Frequency Response: 20Hz(-0.7dB) ~ 80KHz(+0.1dB)
Output power (@1% THD+N) 100mW at 300ohm 170mw at 150 ohm 360mW at 60ohm 570m W at 30 ohm THD + N : 0.005% at 2Vrms
Output Dynamic Range: 110dB
Channel Separation : >92dB at 1Khz >76dB at 10Khz
Signal to Noise Ratio: 115dB

Associated Equipment:

AKG K701 headphones, Monitor Audio RS6 speakers, Granite Audio #470 Interconnects, Blue Jean Cable LC-1 Interconnects, Granite Audio #560 Power Cord, Audio Note DAC 1, IBM T42, PS1, Rega P3/24, Simaudio Moon LP3 Phono Stage, Sumiko Blue Point Special Evo III Cartridge, Toshiba SD-3950

MSRP: $895.00
KingRex
KingRex Technology Co. Ltd. is a Taiwanese company located in Taipai, Taiwan. Over the past couple years KingRex has started to explore hi-fi product design and production.  So far they have broad line up of small, great looking components, ranging from; a headphone amp, a DAC, Class T Amps, Pre-amp, power supply unit, and speakers.  The Class T T20 and T20u amplifiers have received positive reviews from 6moon reviewers and AudioREVIEW user reviews. KingRex history lays in a verity of OEM electronic parts and hi-fi product production was spurred on by the Mr. Johnson Chou, the president of KingRex who has a passion for hi-fi audio himself.
Qualifiers -
A bit about my personal philosophy on reviews before we continue.  I believe the dichotomy of 'good' and 'bad' pushes the unique characteristics of components into two pointless extremes that sever no one.  I may like or dislike something, but it certainly doesn't mean you would feel the same.  And more so, with a quick switch of an associated component, opinions may shift.  What I am after and hope you leave with, is a knowledge of the characteristics a piece of equipment applies to a wide verity of musicals styles and as various a components testing as I can.  In other words, what does common sound does it apply to metal, or jazz, or techno or vocals?  Also, does it apply a general sound across associated equipment, so that you know, if you demo it, or buy it, what to expect in your set up.  Though absolute results will obviously vary.  Also, at the end of this review is a comment section.  So if you have questions for me, or KingRex, or have a different opinion on the HQ-1, write it.  It can only help to server our hi-fi community better. Information is power, but demoing equipment yourself is king.
Trim
The KingRex Headquarters HQ-1 headphone amplifier arrived in a package that would make a the board members of FedEx smile.  The two units themselves are small 5.5in deep, 7in wide, and 1.75in tall.  One unit is the power supply while the other houses the; amplifier, controls IOs, volume knob and headphone amp/pre-amplifier button switch.  The unit I was lucky to use for a couple months was had a red face and extremely shinny black box body.  A body that does leave finger prints when ever touched.  So don't touch it!
Construction is excellent.  All screws unscrew/rescrew in nicely, all panels slide back in place easily, and there are no burs or dings on any edge or surface.  The two units are of good weight, the control unit being about 2lbs and the power supply unit about double. Both units have foam feet on the bottom.  A bit thicker foam feet would have given the more space between the two units when stacked which might have prevented the problem of the amp/controller unit's face plate sliding back and off behind the power unit's face plate when plugging in headphones.  This only happens when the units are stacked, but thicker, stickier feet would be nice.
The volume control knob is smooth and heavy.  The resistant is just enough that you'd have to give a lot of power to your twist to turn it up to ear bleeding levels on accident.  The power switch in the back is solid and held up to a lot of on and off.  The XLR power cable between the power supply unit and the amplifier and control unit locked into place and never accidentally came undone.   Now if I could get my Moon LP3 to have this type of body and chassis….
The blue indicator lights do put out a rather bright light blue shine. You can easily tell where the unit is when it is on.  The headphone amp/pre-amplifier option switch is a little round button in the middle of the amplifier units face.  It seems like it should be a light, but it is in fact a switch.  The blue light will switch from phones to line out.  One thing I think would be a good improvement on future versions would be for the unit to remember which mode it is in when turned off and then back on.  It defaults back to headphones on every power cycle.
The unit also takes some time to power down.  Don't be alarmed the first time you turn it off and you still hear audio coming through.  It and the blue light will fade in about a minute.
The volume level indicator is a bit hard to see if the light in the room isn't bright.   So if you forgot where the volume is at, do the smart thing, turn it down before you turn it on.
Guts
The insides, the goods, the what makes it tick, the real meat and potatoes.  I'm not going to pontificate much here.  It is a Class A MOSFET amplifier.  There are two units.  The power supply and the amplifier board and controls, IOs.  The insides though are as clean as the outside of the HQ-1.  The power supply unit is separate to improve sonic qualities and integrity.  The HQ-1 has a 45W toroidal transformer (18V/2.5A) and has a reserve power capacity of 25,100uF.  In the amplifier, IO and control unit, Toshiba A970/C2240 transistors are used for first stage amplification and Hitachi MOSFET 2SK214 for the output stage.  It uses Hi Fi grade Panasonic FM capacitor as the main filter and WIMA input capacitors. The WIMA are used to "enhance acoustic density", which will be important later in the Sound portion of this review. The HQ-1 uses Vishay output capacitors as well.
With an output impedance from 100mW at 300 ohm to 570mW at 30 ohm, make sure to check if your cans can be run competently by the HQ-1.  The THD + N bottom low is 0.005%. No audible noise floor that I could tell when running at non ear bleeding volumes.  Even when cranked up as in pre-amp mode there was little noise.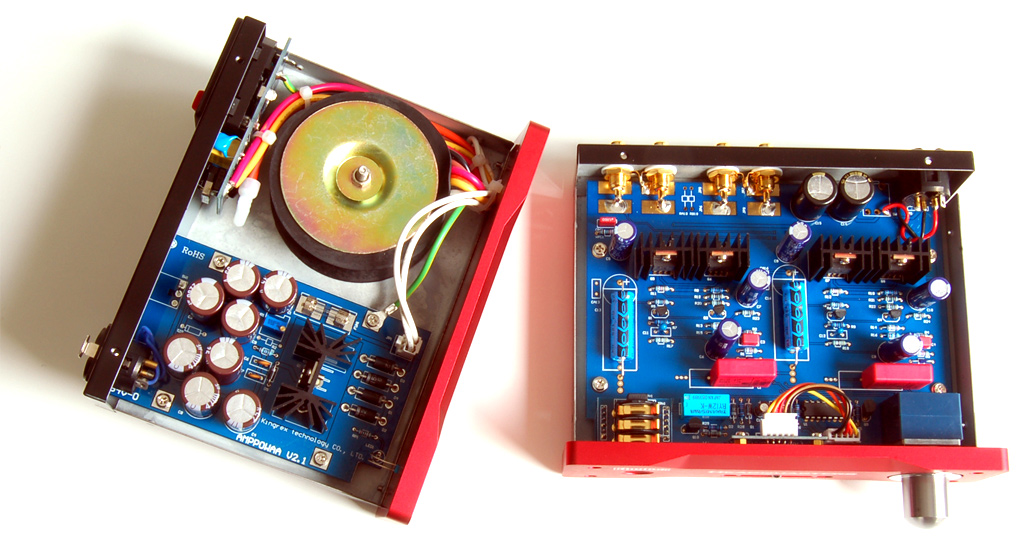 Continue Reading… using the HQ-1 | How it Sounds | Conclusions