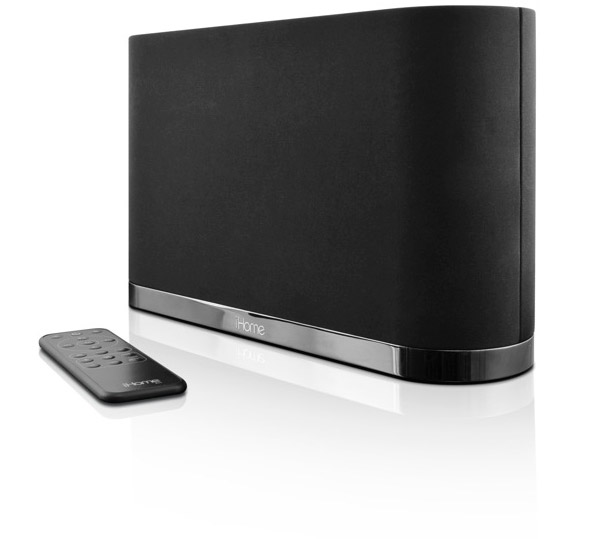 iW1 and iP4 Lauded for Innovative Designs
 
RAHWAY, N.J., March 19, 2012 – iHome today announced that two of its products – the iW1 Wireless Rechargeable Speaker System with AirPlay® and the iP4 Portable FM Stereo Boombox for iPhone/iPod – have received the internationally renowned red dot award for fine design in entertainment technology.
 
The red dot design award dates back to 1955 and is one of the world's largest and most distinguished design competitions.  In 2012, 1,800 companies and independent designers from 58 countries registered for the "red dot award: product design."  Within the competition's 19 different categories, a total of 4,515 registrations were submitted.  The award – the red dot – has established itself internationally as one of the most appreciated quality seals for outstanding designs.
 
"We are honored to have two of our products recognized by such an esteemed group of design professionals," said Evan Stein, Director of Marketing, iHome.  "We strive to deliver aesthetically pleasing and functional products and it is extremely gratifying to be recognized for those efforts."
 
The Winners:
iW1 Wireless Rechargeable Speaker System with AirPlay 
The iHome iW1 speaker system with AirPlay combines innovative technology with a minimalist design principle that seeks to simplify the complexities inherent in a Wi-Fi network audio solution.  The minimalist chassis with dark chrome metal base, seamless capacitive touch interface, integrated handle, and four active speaker drivers with digital sound processing offer elegance, ease of use, and premium audio performance. 
 
iP4 Portable FM Stereo Boombox for iPhone/iPod Available in Pink and Grey 
A modern rethinking of the iconic 1980's boombox, with a sleek design and unique rubberized finish, the iHome iP4 represents a synergy of fashion and sound, of yesterday's look and today's technology.  Mixing metaphors, design-wise, can be challenging, but we believe the result is a product that is both satisfying to own and a lot of fun for the user.  
 
For further information on the iW1, iP4 and the rest of the iHome product line, please visit www.ihomeaudio.com.
 
About iHome
iHome was established in 2005 as a division of SDI Technologies to develop and market iPod compatible audio products.  The first iHome product introduced, the iPod Clock Radio, was an exceptional success that became the top-selling iPod accessory for the year, and firmly established iHome as the premier brand in the iPod electronics market.  Since then, iHome continues to be the #1 brand in iPod/iPhone/iPad clock radio and speaker systems according to NPD data and has been at the forefront of design with a growing lineup of award-winning iPod-compatible audio products that includes alarm clocks, clock radios, portable and home speaker systems, and headphones, as well as new licensed lines of computer accessories and New Balance sport/fitness headphones.
 
Acknowledged for its innovative features, unique designs, and advanced technology, iHome has garnered several prestigious industry awards including CES Innovations Awards, numerous Editor's Choice Awards and iLounge's "2011 Clock Radio Speaker of the Year."
 
iHome supports its franchise with national print, broadcast and online advertising campaigns, and the company's products can be found worldwide in 70 countries or on the web at www.ihomeaudio.com, on Facebook(facebook.com/iHome), or follow @iHome on Twitter .