IT'S DADS & GRADS TIME!
iHOME HAS THE PERFECT GIFTS FOR OFFICE OR DORM
With June just around the corner, it's time to start thinking of the perfect gift for your Dad and Grad.  Let's make it easy on you with some great products from iHome!  With a variety of great audio solutions & accessories for today's favorite portable devices (iPad, iPhone, iPod & Android), iHome makes every second of work, play, travel and sleep more convenient and enjoyable.
WORK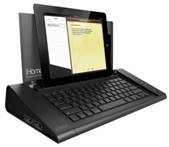 iHome has the answer to those small home offices: the new ultimate executive workstation, the iDM5.  This full-sized QWERTY Bluetooth keyboard works wirelessly with iPad, iPhone and other Bluetooth-enabled devices to make typing a breeze. Built-in speakers pump up your favorite tunes, and pairs with the built-in microphone to transform the unit into a speakerphone for calls or video conferencing.  The iDM5 also boasts 2 USB ports for fast charging of your mobile devices.  Available now, the iDM5 is an advanced workstation at a consumer friendly price of just $129.99.
PLAY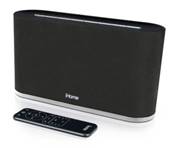 Forget running wires or having Dad take on another home improvement project.  iHome's next generation of AirPlay speaker systems, the iW2 uses your Wi-Fi network to connect and control your iTunes library through your Mac, PC, iPad, iPhone or iPod, for wireless audio anywhere in the dorm or home.  The iW2 supports USB docking for iOS device charging and music playback.  Available now for $199.

DORM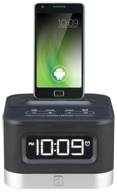 Dorm life has its own schedule and getting up on time for class can be as challenging as a surprise test.  Be sure they wake up in tune with the iC50 Space Saver FM Stereo Alarm Clock Radio for Android Smartphones.  One of the first docks for the Android platform, the iC50 plays and charges Android Smartphones; includes an FM alarm clock radio; the SmartSlide™ dock fits most tablets and smartphones; and works with the free iHome Sleep alarm app to deliver an advanced bedside experience.  Available now for $59.99.
ON-THE-GO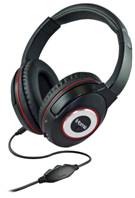 It's no longer impossible to find premium headphone audio for under $50!  Introducing the new iB50 Noise-Canceling Headphones w/Volume Control and Pouch.  These hot headphones contain active noise-cancelling technology that eliminate distracting background noise for undisturbed listening. Padded ear cushions add comfort, and the padded & adjustable headband ensure a perfect fit.  The ear cups rotate to fit into the included travel pouch.  Available this month for $49.99.