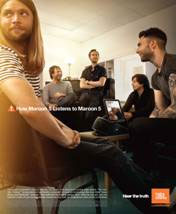 "Hear the truth" will feature an evolving roster of international musicians, including GRAMMY Award® winners Maroon 5, who will urge fans to listen to music as the artists intended
For more information: JBL.com
STAMFORD, Conn. – HARMAN International Industries today unveiled JBL's "Hear the truth," a multiyear campaign featuring an evolving roster of top international musicians who want their fans to listen to music as it was intended to be heard. In the coming weeks and months, HARMAN will launch TV commercials, print advertising, radio clips, online programs, social media engagement and concert venue promotions that challenge listeners to "Hear the truth," a campaign designed to resonate with JBL's long-time fans and music lovers through the artists and songs they adore.
Four internationally renowned artists will kick-off the campaign, with Academy Award®-winning director Barry Levinson behind the camera for the commercials.
Maroon 5: The GRAMMY Award-winning rock band fronted by Adam Levine, a judge on NBC's hit show the "The Voice," is currently in the middle of a worldwide tour to support its new album, Hands All Over.
Liu Huan: China's "King of Pop," Liu is beloved in his native country and considered a musical pioneer. He is the composer for several top Chinese television programs and performed the song "You and Me" with British singer Sarah Brightman at the Opening Ceremony for the 2008 Beijing Olympics.
Night Ranger: The 80s rock legends are currently on a world tour with Journey and Foreigner in support of their new album Somewhere in California. The band continues to sell out shows around the world.
Styx: This multi-platinum rock band continues to deliver their great brand of rock and roll to packed houses across the country.
Additional "Hear the truth" musicians will be introduced throughout the multiyear campaign, including hip hop artists, country music stars and international pop sensations.
"JBL's 'Hear the truth' campaign is headlined by world-class musicians, and it's important to understand why: At a time when access to music has never been easier – our smartphones, portable music players, cars and computers deliver songs on demand no matter where we are – it has become increasingly important to focus on the core value of what music means to so many: quality sound. The JBL brand is renowned worldwide by musicians and sound engineers, and our mission is to ensure their musical integrity is faithfully recreated through JBL products," said Dinesh Paliwal, chairman, president and CEO of HARMAN.
The JBL heritage reaches back more than 65 years, as founder James B. Lansing developed the first sound system designed specifically for installation in movie theaters. It is the only audio brand to have been recognized by the Academy of Motion Picture Arts and Sciences for contributions to the film industry. JBL was an innovator for ground-breaking music festivals, as its loudspeakers were used at Woodstock in 1969, while today JBL sound systems are fixtures in top concert and performance venues around the world. JBL is a leader in developing audio equipment to maximize music for the digital area, developing iPad, iPhone and iPod speakers for the home and office, premium after-market sound systems for car audio enthusiasts and ground-breaking loudspeakers for home theaters and audiophiles.
During the course of the "Hear the truth" campaign, JBL will utilize social media channels to share unique behind-the-scenes video content from video shoots with the featured artists. These engaging clips will showcase the commitment, artistry and vision that the musicians bring to their craft so listeners and fans can "hear the truth."
HARMAN will also re-launch the JBL website (JBL.com) featuring the brand tagline and introduce expanded e-commerce and multilingual capabilities.
"JBL is a brand known globally for delivering music as it was meant to be heard, a legacy we bring to our next generation of products that maximize the digital music experience," said HARMAN Chief Marketing Officer Jeff Willard. "We expect this campaign to excite music lovers and our fans while showing why the greatest performers in the world trust JBL."
The "Hear the truth" campaign was developed by Southfield, Mich. advertising agency Doner.
About HARMAN
HARMAN (www.harman.com) designs, manufactures and markets a wide range of audio and infotainment solutions for the automotive, consumer and professional markets – supported by 15 leading brands, including AKG, Harman Kardon, Infinity, JBL, Lexicon and Mark Levinson. The company is admired by audiophiles across multiple generations and supports leading professional entertainers and the venues where they perform. More than 20 million automobiles on the road today are equipped with HARMAN audio and infotainment systems. HARMAN has a workforce of about 12,000 people across the Americas, Europe and Asia, and reported sales of $3.8 billion for the 12 months ended June 30, 2011. The company's shares are traded on the New York Stock Exchange under the symbol NYSE: HAR.
© 2011 HARMAN International Industries, Incorporated. All rights reserved. Harman Kardon, Infinity, JBL, Lexicon and Mark Levinson are trademarks of HARMAN International Industries, Incorporated, registered in the United States and/or other countries. AKG is a trademark of AKG Acoustics GmbH, registered in the United States and/or other countries. Academy Award is a registered trademark and service mark of the Academy of Motion Picture Arts and Sciences. GRAMMY Award is a registered trademark of the National Academy of Recording Arts & Sciences. iPad, iPhone and iPod are trademarks of Apple Inc., regiestered in the U.S. and other countries. Features, specifications and appearance are subject to change without notice.