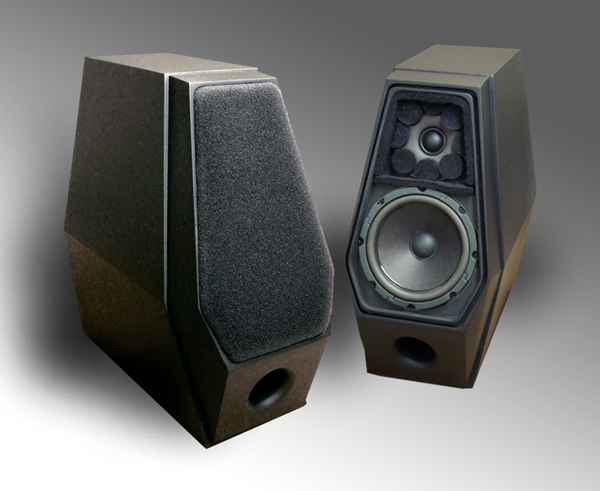 Green Mountain Audio of Colorado is proud to announce that their new Rio compact loudspeaker is now in retailers' hands worldwide.
Rio is a time-coherent two-way speaker, which means the sounds from its woofer and tweeter arrive at one's ear at the same instant.
- This requires a woofer, tweeter and crossover circuit that each store the least possible energy. Thus, Rio uses the acclaimed 6″ woofer found in GMA's Eos and Eos HD speaker models– with its very lightweight yet highly rigid carbon-fiber/paper cone, driven by a very-low distortion patented neodymium magnet assembly. Rio's tweeter is a laminated soft-dome from SEAS of Norway, much lighter than any metal-dome tweeter, having an unusually large, critically-damped and highly flexible suspension. Inside is found GMA's Balanced-Phase ™ 1st-order crossover circuit, using only a very few premium, hand-matched components. These drivers and crossover circuit are exceptionally linear in their behaviors, to produce high-contrast, lifelike dynamics on any music or soundtrack.
Rio's enclosure is entirely cast from GMA's proprietary Q-Stone(tm), a rigid, non-resonant marble composite with high internal damping.
- Advanced 3-D modeling of dynamic pressure responses led to Rio's uniquely asymmetric internal shape, having two distinct advantages over rectangular cabinets: Its shape forces full and immediate absorption for the rear waves generated behind the woofer except for those of the lowest bass, where it causes the highest bass pressures to appear directly behind Rio's large aerodynamic bass port on the front. This latter feature is called Optimal-Point(tm) port design, for producing maximum bass output and the highest degree of woofer/port communication. On the outside, Rio's enclosure is beveled and shaped to minimize surface reflections and edge diffractions, and its overall proportions came from research into providing the smoothest possible low-frequency interaction with the nearby surfaces of tight-quarter placements.
Surrounding Rio's tweeter is a premium pure-wool felt arranged in a pattern that absorbs high-frequency surface reflections and prevents diffracted waves from the enclosure's edges. This felt also widens the dispersion pattern of the tweeter for a uniform tone balance throughout the room, yet it also severely restricts the tweeter's output sent directly to the sides and up and down, for maximum clarity when Rio is placed close to reflective surfaces such as walls and video screens.
Rio is very efficient and presents an easy load to any amplifier, and is designed to sound best on 20″-24″ speaker stands depending on the listener's height and distance. Rio has sufficient output to fill very large rooms on any music or soundtrack, yet plays very softly for use even in the smallest rooms.
The first pairs are already seeing use as nearfield studio monitors for mastering and for all channels in home theater systems. Rio is sold in matched pairs or matched sets only, and as with all Green Mountain Audio designs, is produced in limited quantities, from the limitations of its casting process and for the attention to detail required for consistent top performance. Price: US$2500/pair MSRP
Rio Specifications
Power: 7 to 100 Watts (amplifier's 8-Ohm rating).
Response: +/- 1dB from 55Hz to 20kHz; – 3dB at 47Hz and 24kHz in room.
Phase shift: +/- 2 degrees acoustically, 200Hz to 8.5kHz.
Impedance: 4.4 to 8.3 Ohms, 100Hz to 20kHz. Treat as a 4 Ohm speaker.
Sensitivity: 90dB for 2.83V at 1m, at sea level. Max clean SPL 102dB peak at 3 meters from a stereo pair, without room gain.
Finish: Black Texture-Kote(tm).
Pair matching: Amplitude +/- 0.25dB; Impedance +/- 0.15 Ohms from 160Hz-8kHz; Crossover parts +/- .15%.
Physical: 16″ tall, 6″ wide and 12.3″ deep at base. 42lbs.
Warranty: "Happy Ears for Life"
For complete specifications and the details of Rio's Lifetime Warranty, along with full explanation of the Design Concepts behind Rio, please visit http://www.greenmountainaudio.com/rio/ .
And yes, Rio is better than our former Callisto model- more clear, more lively, better bass, more compact, all for less $$!
source: Roy Johnson